Millennials leading Asia's travel wave
Despite a turbulent 2016, more people from Asia are expected to travel abroad this year, according to global travel deals publisher Travelzoo.
In December, Travelzoo surveyed its members in China, Japan and Singapore about their 2017 travel plans.
Of the respondents from the Chinese mainland, 70 percent said they intended to travel abroad two times or more this year, an increase of almost 10 percent compared to the same period last year, and nearly 30 percent of Hong Kong respondents plan to travel four times or more in 2017, which is an increase of 5 percent over the same period last year.
"Consumer confidence in Asia remains strong, and that's reflected in the travel industry," said Vivian Hong, president of Travelzoo Asia-Pacific, while introducing the 2017 Travelzoo Travel Trends Report on Feb 6. "This is especially the case for China. China is witnessing a generation of millennials that is the dominant force in leading the travel wave."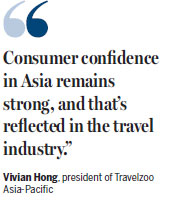 According to the findings of the survey conducted in December, in the previous 12 months there was a 10 percent increase in the number of tourists from the mainland taking two or more holidays.
The number of mainland tourists who are willing to spend more than 14,000 yuan ($2,039) on traveling has also increased by nearly 10 percent compared to last year.
There was an 11 percent increase in the number of respondents from the mainland who said they would be willing to spend more than 600 yuan per night on a hotel this year.
The number of respondents from the Chinese mainland who said they preferred budget hotels decreased by nearly 5 percent, while the number of those who prefer high-end global hotel groups has almost tripled.
The online questionnaire, which was completed by 7,683 Travelzoo members, also found that destinations within the Asia-Pacific region are the most attractive, with Japan continuing to be the favorite. It is the most popular destination based on a unanimous vote from the survey respondents, and more than 22 percent of respondents from the mainland who plan to visit Japan will be repeat visitors.
"Asian travelers are becoming much more sophisticated," said Hong. "They used to travel primarily for fast-paced sightseeing and luxury shopping. But in the past few years, we have seen a rapidly growing number of Asian tourists who prefer a more personal and in-depth travel experience."
The results highlighted transformations in the vacation spending patterns of travelers from the Chinese mainland, with an increasing number willing to spend more for in-depth experiences focused on explorations of nature and culture.
Safety has become an increasingly important factor in the choice of destination.
Nearly 65 percent of Chinese mainland respondents cited safety as one of their reasons for choosing Australia, while 50 percent chose it as one of the reasons they would visit Japan.
"Concerns about safety from terrorist attacks weigh heavily in Asian tourists' travel decision-making," Hong said. "Nearly 80 percent of them travel with family so they are very mindful of security."
The five most popular planned destinations for mainland tourists this year are Japan, Australia, the United States, the United Kingdom and Canada.
lindsayandrews@chinadaily.com.cn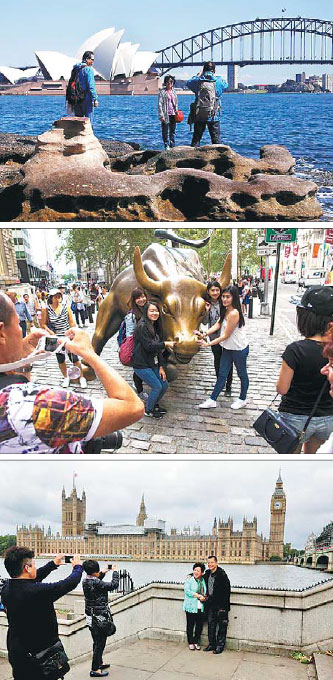 From top: Chinese tourists take pictures as they pose in front of the Sydney Opera House in Sydney, Australia. Reuters Travelers pose for photographs with the landmark statue of a bull on Wall Street in New York, the United States. Reuters Chinese tourists take pictures near the Big Ben clock tower in London,Britain. Reuters
(China Daily 02/25/2017 page10)
Today's Top News
Editor's picks
Most Viewed