Gold shares up on safe-haven idea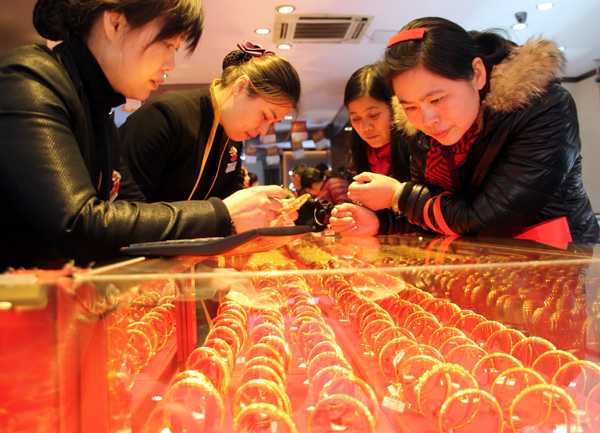 Customers select bracelets at a jewelry store in Suzhou, Jiangsu province, on Jan 31. WANG JIANKANG /FOR CHINA DAILY
Gold-related products will be strong hedging tools in the near future: Analysts
Share prices of companies producing or selling gold have surged in the past few weeks thanks to rising demands for the metal as a safe haven for investors.
Analysts said that they recommend investors to hold gold-related products, from bar and coin to gold-backed exchange traded funds, as demands for gold as a hedging tool would stay strong in the near future.
The share price of miner Shandong Gold Group Co Ltd rose by 9 percent in the past 20 days from 35.41 yuan ($5.15) per share to 38.71 yuan per share.
Other Shanghai-listed gold miners Zhongjin Gold Corp Ltd, Chifeng Jilong Gold Mining Co Ltd and Hunan Gold Corp Ltd rose by more than 3 percent in the past week. Gold products retailers such as Beijing Kingee Culture Development Co Ltd rose by 5 percent.
A research note from China Galaxy Securities Co Ltd said: "The robust demands for gold in 2016, particularly the fourth quarter, helped gold to consolidate its position. Demands for gold as a tool for hedging risks are likely to remain robust in the first quarter of 2017, after a strong Q4 in 2016. Bar and coin, ETFs and gold-related companies' shares are all likely to benefit from the demands."
The final quarter of 2016 was the buying opportunity many retail investors had been waiting for, after the precious metal's price had been subdued for most of the year. The fourth quarter was also China's strongest quarter of bar and coin demand since the second quarter in 2013, the research note said.
A report from the World Gold Council in 2016 said: "A four-year high in investment drove price gains and demand growth."
According to World Gold Council data, 2016 full-year gold demand rose by 2 percent to reach a three-year high of 4,308.7 metric tons, and annual inflows into ETFs reached 531.9 tons, the second highest on record.
Investment demand was up by 70 percent in 2016, reaching its highest level since 2012. Annual ETF inflows were the strongest since 2009.
Retail investors' positive response to the price fall in October and November pushed Q4 bar and coin demand to its highest quarterly level since Q2 2013.
In China, consumer demand is estimated at 900 to 1,000 tons in 2017, according to the World Gold Council.
Yang Jie, an analyst with Shanghai-based Seawonder Precious Metal Investments Ltd, said: "Uncertainties over new policies that could be introduced by the Trump administration in the US and changes in Europe and Britain after Brexit would also push up demand for gold."
From a retail perspective, an increased demand for gold jewelry from December 2016 to the end of February is also likely to help boost the share prices of gold retailers.
Xin Yufen, sales manager with Yayi Jewelry in Shanghai, said: "Gold jewelry demand often rises significantly around festivals, such as Christmas and the New Year and China's Lunar New Year, as giving gold as a gift is a tradition. In recent years, as gold products became popular among young consumers, St Valentine's Day also sees a peak in gold jewelry consumption."