The touch of Gold
Updated: 2017-01-13 07:56
By Evelyn Yu(HK Edition)
| | | | | | | | | |
| --- | --- | --- | --- | --- | --- | --- | --- | --- |
|   | | Print | | Mail | | Large Medium  Small | 分享按钮 | 0 |
Nina Gold, who discovered and championed acting talents who have since gone on to become superstars, was in town to conduct a master class at Hong Kong Academy for Performing Arts. Evelyn Yu reports.
In 2016, the British Academy of Film and Television Arts (BAFTA) awarded its Television Craft Awards Special Award to a casting director.
Nina Gold, the first-ever casting director to receive such an honor, had worked on more than a 100 television and film productions, including the HBO series Rome and Game of Thrones; widely-acclaimed films like The King's Speech, The Theory of Everything, The Martian and the latest installment of the Star Wars franchise. She is responsible for having given stars like Oscar-winner Eddie Redmayne (Les Misrables), Emilia Clarke and Kit Harington (Game of Thrones), Daisy Ridley (Star Wars: The Force Awakens), their big break.
Gold herself finds it difficult to pinpoint how she zeroes in on the right candidate for a role. She says she usually goes for the actors who come across as "contained", "honest" or "thoughtful" among a few other such abstract character traits, but could not quite explain the thinking that went into making many of her shrewd judgments that have turned untapped talents into superstars.
She believes it's more instinct than science. "It's intangible. I wish I could analyze but I can't. Otherwise we could run it on a computer and we won't need a casting director," said Gold, on the sidelines of giving a master class to the students of Hong Kong Academy for Performing Arts (HKAPA) last month.
What's probably common to big-budget movies across film industries around the world is that the lead roles are usually chosen from a pool of well-established stars. And the list has not changed all that much over the past five years, said Gold.
She, however, has been trying to bring more diversity to this so-called A-list and champion new talents. For example, she took a bold decision in casting Daisy Ridley - who had only played cameo roles in televisions and short films - and John Boyega, a British-Nigerian, both 24, in Star Wars: The Force Awakens.
Gold recalled Ridley had responded to an open call for auditions for the lead female role. She was one in the first batch of people to audition. Both the director Jeffrey Jacob Abrams and Gold liked her energy instantly, and though they continued to audition hundreds of people for the role, Ridley remained their first choice.
There was a lot riding on a film which was a part of the Star Wars franchise, in terms of investment and audience expectation. Still, Gold managed to convince the producers and investors to go with two rookie actors. The movie was well received internationally and Gold said she was really proud of the two young actors.
She cast Eddie Redmayne as Marius in Les Misrables as she had thought of him as "very beautiful and brilliantly talented". She was convinced he would be able to pull it off as the severely-paralyzed cosmologist Stephen Hawking in The Theory of Everything, which he did, by winning a BAFTA, Golden Globe and an Oscar.
Gold does not always have the final say though. There were occasions when she had to battle it out with the director and producers, making a case for the actor she thought was the right fit for a role. She remembered producers of The King's Speech would come up with "terrible ideas of big names". Her choice of Colin Firth as the lead would be shot down as the actor was considered "too tall", "too robust" and "too good looking" for the desperately shy and stammer-troubled Duke of York. Gold said she battled for over a year to give the role to Firth who of course proved her right by winning an Oscar for the best male lead.
Mind the gap
While most film producers around the world use a casting director, it's still not quite the norm in China. Speaking at the master class in HKAPA, Gold was surprised how filmmakers in China could do without a casting director. As far as she was concerned, the job entailed an awful lot of work.
Gillian Choa, dean of the School of Theatre and Entertainment Arts in HKAPA, said it was a pity that there were no casting agencies for actors in Hong Kong. Well-known directors, who have been in the industry for long, usually called the shots, casting their favorites, not leaving much room for newer talents to emerge.
"There are production houses that would go out and scout for new faces only when there is a script (that demands fresh actors), but I think we should have casting agencies to be constantly looking for young talents and keep a database of their profiles to build a pool of actors," Choa commented.
That's pretty much what Gold's daily job is about. She watches a lot of plays, visits drama schools. She is constantly talking to actors' agents in the UK during the day and those in the US at night, says Gold, light-heartedly. British television, she says, is going through another "Golden age" as it gets more diverse and imbued with fresh talent. And although she doesn't say so herself, it's evident that Gold has a role in this revolution.
Contact the writer at evelyn@chinadailyhk.com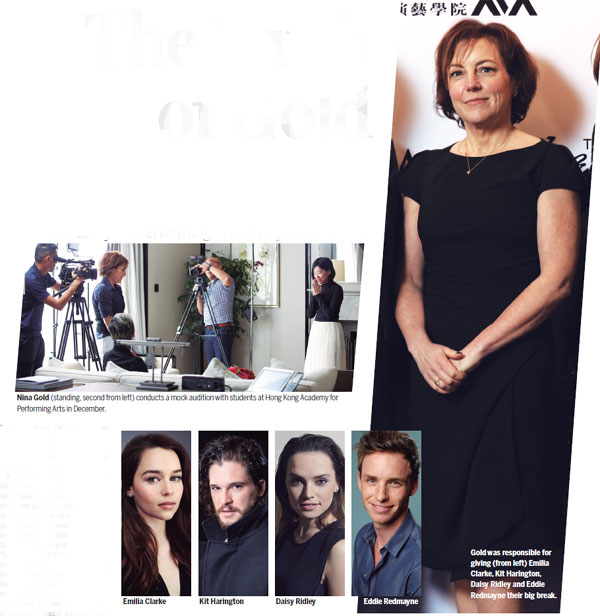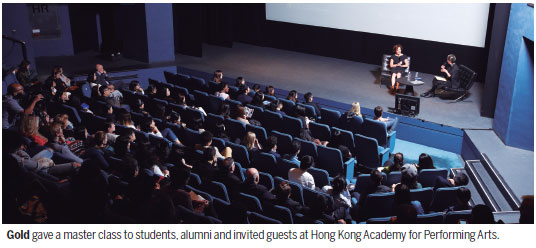 (HK Edition 01/13/2017 page1)