Year of the Rooster also Year of Gold, says bullion expert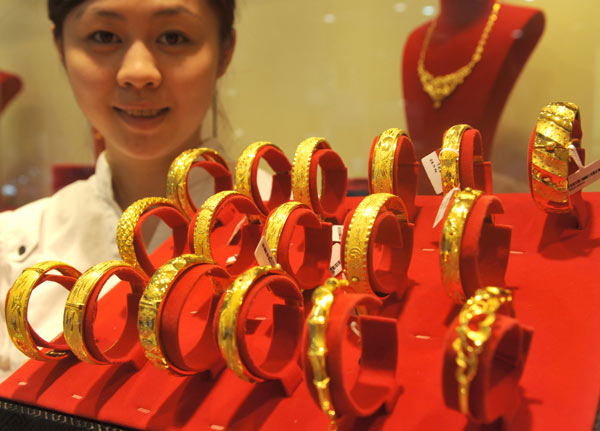 A member of staffs display gold products at a gold store in Qionghai, Hainan province, on May 7, 2013. [Photo by Meng Zhongde/Asianewsphoto]
This year, the Year of the Rooster in the Chinese lunar calendar, will also be the year of gold, said Haywood Cheung, president of the Chinese Gold & Silver Exchange Society-an umbrella organization of gold trading firms in Hong Kong which are participants of the Chinese Gold and Silver Exchange.
In an interview with the China Daily, Cheung said he drew his confidence from the turbulent global economic environment, which he said would create a bull market for bullion.
Cheung forecast that the international gold price could potentially climb to $1,600 per ounce in the year. Investors are advised to allocate 20 to 30 percent of their assets to the gold market to hedge risks including the depreciation of major currencies, the uncertainty over US President Donald Trump's China policy and the sluggish economic situation in Europe.
On the first trading day after the Lunar New Year, Hong Kong's gold market rose 0.9 percent to close at HK$11,192 ($1,443)-with RMB Kilobar Gold traded at 266 yuan ($39) per gram and 99 Gold trading at HK$11,188 per tael.
Cheung said his organization, which has a history of more than 100 years in Hong Kong, will in 2017 continue to develop bonded warehouses for gold in the Qianhai pilot free trade zone in Shenzhen.
He said it would also upgrade the trading connect with Shanghai for gold and participate in the building of a commodities trading connect with the mainland.
Cheung said that the Qianhai project, a joint venture with Industrial and Commercial Bank of China, is building a temporary warehouse that could store two metric tons of gold, which is expected to be opened in the second quarter of this year. But in the coming two to three years, his group would build its own warehouse, big enough to hold up to 1,500 tons of gold.