Favorable climate in Hainan attracting holiday investors
Saleswomen promote a property at a housing fair in Haikou, Hainan province. XU ERSHENG / FOR CHINA DAILY
More people from the mainland regions eye homes in the tropical island province
The real estate industry is expected to continue to grow in Hainan, China's only tropical province, as more people look to buy holiday homes in an area with a favorable climate, said business insiders.
Wang Lu, chairman of Haikou-based Jincheng Consultancy, a real estate information provider, said: "Favorable climate and better transport links have prompted the more affluent to take a second home or holiday home in Hainan."
Data from the Hainan provincial real estate bureau show that Hainan saw a stable 44 percent increase in house sales last year. Sales volumes in the period reached 129 billion yuan ($18.82 billion), up 51.2 percent year-on-year.
The average price for commercial apartments was 20,695 yuan per square meter in Sanya, a coastal tourist attraction, in November, up by 15.75 percent year-on-year. Transactions reached 212,400 sq m, an impressive increase of 127 percent year-on-year, according to statistics from the Sanya realty management authorities.
Wang said: "Sales of houses experienced a brisk growth in Hainan last year. Widespread smog in northern cities pushed up the sales on the island."
Consequently, investment in the island's real estate sector also warmed up, with stable growth of funds and decrease of stocks reported.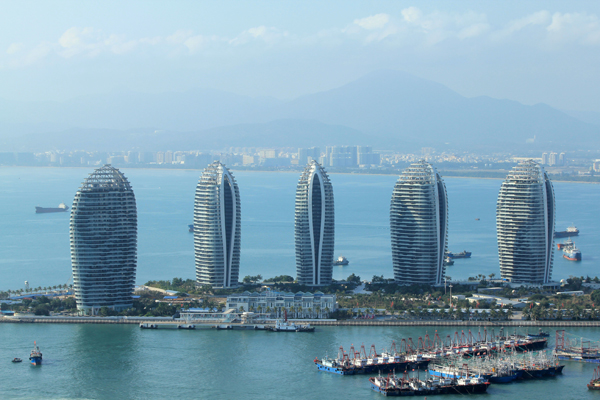 Phoenix Island project in Sanya, Hainan province. Photo provided to China Daily
"Among the country's top 20 leading property developers, 18 have invested in Hainan, such as Sunac China Holdings Ltd, Greenland Group, Evergrande Real Estate Group, Dalian Wanda Group Co Ltd and R&F Properties Co Ltd. All of them continued to pour money into the island in 2016," said Wang.
Zhong Liansheng, general manager of Sunac China Hainan Co Ltd, said: "Investment in Hainan's real estate sector is changing from short-term to long-term investment. Property in the tourist sector is also changing from focusing on short stays to longer vacation trips."
Sunac turned to Hainan in late 2015 and now is engaged in six property projects on the eastern coastal cities, which have attracted 78.9 percent of the real estate investment on the island.
"People who bought houses in Hainan used to be pure investors but now most of the buyers are purchasing homes for vacations or as a reservation for their retirement, for their parents or their children," said Zhong.
"There is an increasing tendency that more mainlanders will fly south to enjoy holidays or escape the extreme cold in winter," said Wang.
Data from his company show that except Haikou, about 90 percent of the houses and apartments in all the island's other 17 cities and counties have been purchased by people outside of the island.
Wang said: "Hainan has become a national holiday center, where house prices are still low compared with prices in first- and second-tier cities on the mainland."
Li Gongmei, a middle-aged professor from Baotou, Inner Mongolia autonomous region, said: "Many of my friends and I have bought apartments in Sanya because it has good air and a beautiful climate."