Ireland's windfall from Brexit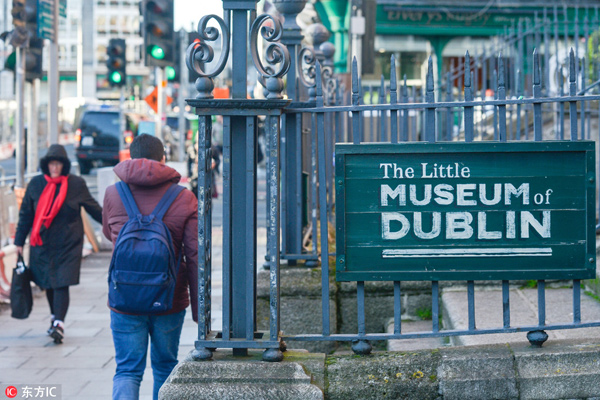 A view of 'The Little Museum of Dublin' sign on St Stephen Green street in Dublin, January 13, 2017. [Photo/IC]
Dublin is stealing a march on inking closer ties with the Chinese financial services sector, leveraging on the uncertainty cast on London's financial services hub by Brexit.
The Irish government scaled up discussions with Chinese companies in the months after the UK voted to leave the European Union in a referendum in June. Ireland now expects to see the first appearances of asset management firms and Chinese banks in Dublin in the coming months.
"We've explained to Chinese banks and asset managers that Dublin will be a very good gateway for them to access the European market after Brexit," said Paul Ryan, director of international institutions, at Ireland's Department of Finance.
"Those talks became more prominent since the referendum vote and some Chinese firms have expressed interest."
Ryan stressed that Ireland had key advantages, including its use of the English language, its common law framework and an open-for-business government, all of which gave it a lead in the competition against Paris, Frankfurt and Luxembourg to grab financial services from London post-Brexit.
Ryan was speaking on the sidelines of the Dublin-based European Financial Forum on Tuesday, which was attended by about 500 global participants.
Meanwhile, Ireland also recently applied for membership of the AIIB. Ryan said a decision is expected around April.