HK should learn from Ireland to make greater use of its diaspora
Updated: 2016-04-06 08:16
By Bill condon(HK Edition)
| | | | | | | | | |
| --- | --- | --- | --- | --- | --- | --- | --- | --- |
|   | | Print | | Mail | | Large Medium  Small | 分享按钮 | 0 |
There are some good examples of countries and cities that have utilized their diaspora to support and drive economic development at home. Is Hong Kong missing an opportunity by not being more active in engaging with its influential and dynamic diaspora?
For decades, emigrants from Hong Kong have yielded a high level of influence around the world. More often than not first generation emigrants became successful through hard work and a DNA backbone hardwired with robust, mercantile acumen. A strong desire to study overseas has also attracted significant numbers to the Ivy League, Oxbridge or a plethora of other leading universities around the world. Many chose to settle afterward and subsequently went on to achieve a high degree of success in their professional careers.
From innovation to the arts or from business to politics you will find figures of influence around the world with strong family roots in Hong Kong.
Historically, Chinese emigrants were driven to seek a better life overseas as a result of conflict, economic hardship or the strong desire to follow in the footsteps of others and create a new life. Within this broader group those from Hong Kong have always been at the forefront of settling in their newly adopted countries.
The evolution and success of "Chinatowns" in cities across the world bear testimony to the rich cultural footprint created by those early emigrants. They became inextricably intertwined and added a dynamic and vibrant aspect to their host cities from London to New York or Bangkok to Sydney and many places in between. Today, key local festivals like Chinese New Year are celebrated in many places. They have been embraced as highpoints in the cultural calendar. The same Chinese communities have made significant contributions to the GDP of their local economies.
However, these individual communities have tended to evolve in isolation from one another. Despite their strong common cultural thread there was otherwise little to bind them together or more importantly to Hong Kong. Understandably many simply adopted the nationality of their new location, seeing themselves as American, British or another nationality - and herein lies the main reason why the Hong Kong diaspora has remained pretty much dislocated. Many have lost their emotional relationship with the city as well as their sense of identity in being a Hong Kong person.
In contrast, one of the best examples of a phenomenally powerful diaspora is the Irish. During the month of March the territory was host to the small but influential Irish community and the celebration of St. Patrick's Day, the national day of Ireland, which incidentally is the most celebrated national day around the world.
St. Patrick's Day was the culmination of a series of events which included the increasingly popular parade, now in its second year and bringing together many local friends of Ireland in celebration of shared values, among them openness, warmth, culture and history. The long-established Irish Ball, a highlight of the social calendar, was held, alongside a food and a film festival, which underpinned a range of other cultural and sporting activities.
However, the key to the success of the Irish diaspora reflects upon the question of identity and what defines being Irish?
As far back as the early 1800s a prominent Irish nationalist put forward the view that "it is not blood that makes you Irish but a willingness to be part of the Irish nation" and an even more powerful attribute is the willingness to help one another. It is this willingness that has permeated throughout Irish emigrant communities around the world, including second or third generations or those wishing to associate themselves with the shared values embedded in the Irish culture.
There are important and unifying channels that encourage a strong sense of being Irish but which serve as an emotional link with home. They enable new networks to be grown and maintained through institutions deeply rooted in Irish culture, education and sport. Two of the most notable are the Gaelic Athletic Association and St. Patrick's Society,.
The role that the Irish diaspora has played in the well-being of the country was demonstrated in the wake of the 2008 financial crisis.
President Michael D. Higgins reached out to the diaspora, acknowledging their contribution to the country; and on behalf of the government, he actively encouraged their continued support amid the economic and social challenges that lay ahead. They responded enthusiastically and have contributed to the country regaining its position as one of the most dynamic and vibrant economies in Europe.
Is Hong Kong missing an opportunity by not engaging with its diaspora at this critical juncture, and are there lessons that can be learned from the experience of Ireland?
Now appears to be a good time for visionary thinking, but sadly true visionaries seem to be somewhat lacking. Perhaps the government should engage with the diaspora in a bid to generate new ideas and encourage fresh thinking about the revitalization and future success of Hong Kong as the game continues to move from West to East.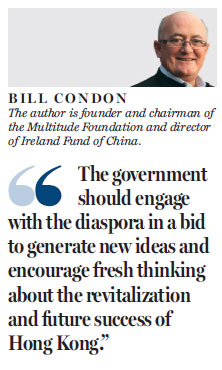 (HK Edition 04/06/2016 page10)