Baijiu makers see revenues rise on strong middle-class demand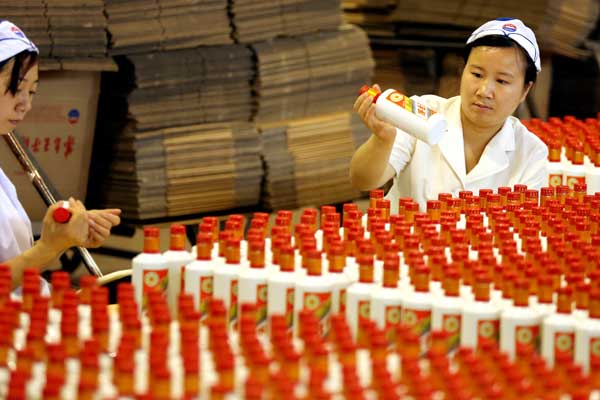 Workers pack bottles of Moutai, a fiery Chinese liquor, at the Kweichow Moutai Co Ltd plant in Guizhou province in May 2016. [Photo by Jiang Dong/Chna Daily]
Drink a baijiu toast to the new year. China's consumer staples stocks, led by makers of the fiery Chinese liquor, are helping drive stock gains this year as sales prospects get rosier.
As China's markets endured a year of turmoil amid concerns over the economic outlook, consumer staples was the only sector on the country's key stocks exchanges with positive returns last year. Those businesses, which sell things for daily use, surged with average revenue in fiscal 2017 forecast to grow three times as quickly as their global peers.
"The baijiu sector will continue to outperform the industry fundamentally as it still has growing demand," Mark Chen, a Shanghai-based analyst at UOB Kay Hian Ltd, said by phone. For China's food industry as a whole, the long-term catalyst is coming from companies upgrading their product mix to satisfy Chinese customers, he said.
In 2016, investors in consumer staples companies on the CSI 300 Index recorded total returns of 11 percent in yuan terms, compared with losses for all the other sector groups. They also outdid their global peers on the MSCI World Consumer Staples Index, which slipped 0.4 percent.
"What we've seen in mainland large-cap staples over the past two years is that they've de-stocked inventory and tweaked strategies to suit the changing consumer market, such as by going more premium," said Hong Kong-based Mizuho Securities Asia Ltd analyst Jeremy Yeo. "That's returned them to top line growth and made them attractive to investors again."
Baijiu-makers such as Kweichow Moutai Co Ltd, Wuliangye Yibin Co Ltd and Luzhou Laojiao Co Ltd dominated the gains, while China's largest dairy producer Inner Mongolia Yili Industrial Group Co Ltd, and Henan Shuanghui Investment & Development Co Ltd, which sells meat products, also rose.
Makers of baijiu, the grain liquor known as the toast of choice for the Chinese, have bounced back from China's campaigns against corruption and extravagance. Demand is now being buoyed by rising middle-class incomes, said Yuanta Securities Co Ltd analyst Juliette Liu.
Shares of baijiu-makers can provide investors with stability amid volatile markets, Liu said.
"The baijiu industry is mature, which lessens the likelihood of bubbles and volatility, and that's what investors want now," she said.
High-end baijiu is "extremely profitable," and the top four producers in China, including Moutai and Wuliangye, are estimated to account for 27 percent of earnings before interest and taxes of the global spirits industry, according to the Bernstein Global Spirits Guide published this month.
Revenue for the distillers surged in 2016, after two years of weak sales, and analysts expect the strong growth to be sustained in 2017. But, they could be outshone by the food producers, which are being boosted by low corn prices.
Food producers are benefiting from slumping corn prices as China's government ended some price supports. Revenue at poultry producer Fujian Sunner Development Co Ltd is forecast to surge 32 percent in fiscal 2017, twice as fast as Moutai, while sweetener maker COFCO Tunhe Co Ltd's sales are expected to rise 23 percent.
"Low corn prices are good for all agricultural businesses that buy corn as raw material, like sweetener and animal feed producers. The lower prices also feed through to the costs of pigs and chicken farmers, pushing up margins for all," said Ma Wenfeng, an analyst at Beijing Orient Agribusiness Consultants Ltd.
The 17 Chinese firms that make up the consumer staples industry on the CSI 300 Index have an average revenue growth forecast of 16 percent for fiscal 2017.
Bloomberg