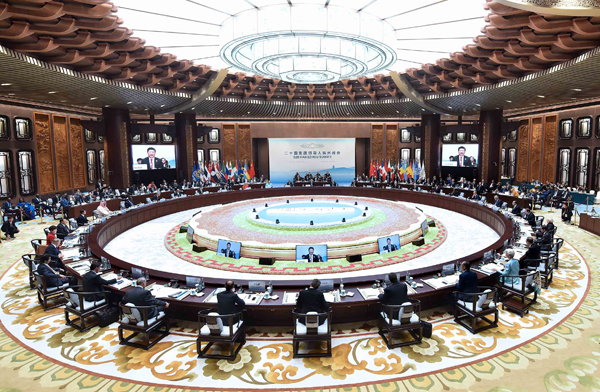 President Xi Jinping delivers an opening speech at the start of G20 Leaders Summit at the Hangzhou International Expo Center in Hangzhou, East China's Zhejiang province, on Sep 4, 2016. [Photo/Xinhua]
The world turned its eyes to President Xi Jinping as he delivered a speech at the opening of the G20 Summit in East China's Hangzhou on Sunday. Here is a selection of international media reports.
China's Xi at G20 says world economy at risk, warns against protectionism
The global economy is being threatened by rising protectionism and risks from highly leveraged financial markets, Chinese President Xi Jinping said at the open of a two-day summit of leaders from G20 nations.
"We should turn the G20 group into an action team, instead of a talk shop," he said.
--Reuters, on Sep 4
G20 leaders told 'avoid empty talk' by China's Xi Jinping
China's President Xi Jinping has urged leaders of the world's 20 largest economies to avoid "empty talk" as they look to quicken economic growth.
--BBC News, on Sep 4
Chinese leader Xi: G20 must 'blaze a new trail' on trade
"The world today is undergoing profound changes never seen before," he said. "It's imperative we blaze a new trail to bring an innovative, invigorated, interconnected and inclusive world economy and a new round of robust growth."
--CNN Money, on Sep 4
Call to action: China's Xi Jinping seeks to rally G20 leaders around global growth cause
President Xi Jinping launched the Group of 20 summit on Sunday with a call to take concrete action to boost economic growth and not allow the event to devolve into a talk shop.
--South China Morning Post, on Sep 4
G20 summit: President Xi Jinping warns against 'empty talk'
Leaders of the world's biggest powers met today to try to revive the sluggish world economy, with their host Chinese President Xi Jinping urging them to avoid "empty talk".
--AFP, on Sep 4
G20 takes up global inequality challenge
He also recognised global inequity, noting that the global gini coefficient — the standard measure of inequality — had raced past what he called its "alarm level" of 0.6 and now stood at 0.7. "We need to build a more inclusive world economy," Mr Xi said.
--Financial Times, on Sep 4
G-20 leaders to endorse cross-border investment guidelines
Chinese President Xi Jinping had earlier cited investment principles among his government's key priorities as host of this year's G-20. The principles will "help foster an open, transparent" global environment for investment, according to a draft of the final communiqué leaders plan to issue at the conclusion of their Hangzhou summit on Monday.
--The Wall Street Journal, on Sep 4