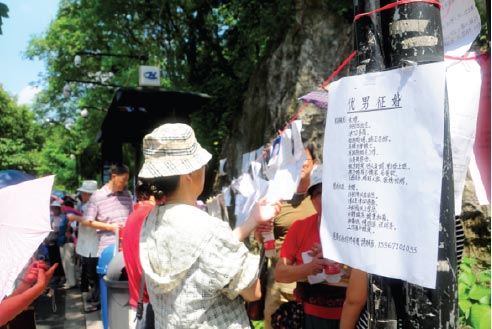 Parents read posters strung up on a line between two light poles next to the main entrance of the Wansong Shuyuan in Hangzhou. [Photo by Xing Yi/China Daily]
However, parents assembled here don't seem to care too much about whether the legend is historically solid, as long as they have a place to find potential partners for their children and a social outlet for their worries.
Du Xiguan, 67, started the whole thing in 2005 when he became worried about his daughter's marriage prospects.
"Young people are all busy working, and have little time to find a date," says Du. "I put an ad on the local newspaper to organize a meeting of parents who have a similar situation."
Du chose Wansong Shuyuan as the meeting place, "because everyone knows this is the place where Liang and Zhu's love story started," he says.
At first, Du expected a few dozen people to come, but some 300 people turned out that day.
They shared information about their children, and when they deemed someone to be suitable, they noted down the contacts. Around lunch time, people agreed that they would come again on the next Saturday morning.
As time passed, more and more people got to know about this meeting place through word-of-mouth, and parents have gathered here almost every week in the past 11 years, rain or shine.
"It's difficult to find an ideal partner nowadays," says a retired local resident, who would only give his surname, Yu. "People are setting too high a standard, but the reality is there is no perfect one."
The most wanted husband is "a local Hangzhou resident, with an apartment for marriage and a stable job," says Yu, while for the most wanted wife is "largely depending on her appearance."
"People should learn to be more reasonable," says Yu. "What I suggest is that people should pay more attention to personalities and characters."
"My daughter eventually found a husband among people I introduced to her, and my grandson is already 9 years old," says Du, who still comes to the weekly event. He runs a non-profit organization that provides services from matchmaking to marriage counseling.
"Now the divorce rate of Hangzhou rises every year, and that's also a serious problem," says Du.