Botanical garden-a colorful treat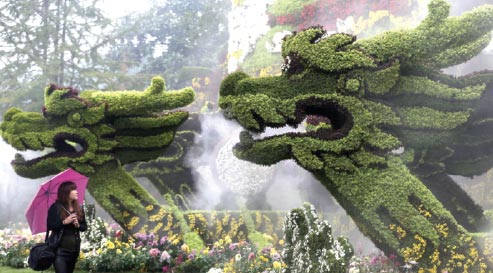 Covering an area of about 230 hectares, the Hangzhou Botanical Garden can be found at the foot of Jade Spring Hill in the northwest end of West Lake in Hangzhou. [Photo by Chai Shijue/Li Zhong/Lai Shunxing/China Daily]
I keep running into Richard Nixon in the most surprising places.
In China, of course, the late US leader continues to be celebrated for opening relations between the two countries. Right now I'm looking at a photograph of Nixon visiting Hangzhou in 1982, to see the giant redwood tree he presented to China during his historic 1972 visit during his presidency.
Zhou Enlai, then China's premier, decided to send the tree to Hangzhou, where the first botanical garden established after 1949 was flourishing.
"Premier Zhou thought the Hangzhou Botanical Garden was very great at botanical research," says the current director of the garden, Yu Jinliang. "So it came here."
At 2 meters tall-about the size of basketball superstar Yao Ming-the tree was no giant among its own species, Sequoia semperveriens. Turns it, it probably never will be.
"Hangzhou's climate is very humid, compared to the parts of California where the giant trees are native," says Yu. "But with our research and the use of tissue culture, we have propagated other trees and planted them in drier parts of China where they are becoming much larger.