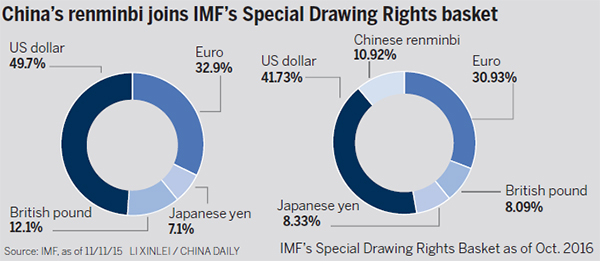 The issuance of bonds denominated in Special Drawing Rights for the first time in China is a good starting point for promoting the expansion of SDR use among the G20 members, analysts said.
The SDR-denominated bonds to be settled in renminbi, which the World Bank began issuing on Wednesday, are "a landmark move" for China's bond market and for the SDR as an international reserve asset, according to World Bank President Jim Yong Kim.
He said the World Bank's issuance of SDR bonds in China will support the G20's objective of expanding the use of the SDR, which has been listed as one of the G20's key financial tasks by the G20 International Financial Architecture Working Group.
SDR-denominated bonds first appeared in 1975. By the end of 1981, a total of 563 million units (then valued around $661 million) of SDR bonds had been issued. However, no SDR-denominated bonds or credit products were issued thereafter, according to the International Monetary Fund.
The change came in 2009 after China underlined the need to strengthen the usage of the SDR basket, and later became part of the outcomes of the G20 meetings in London that year.
Analysts believe that the issuance of bonds after 35 years and the future development of the SDR-denominated bond market in China will help promote greater use of the SDR and meet some of growing demand for renminbi-denominated assets.
Liang Hong, chief economist with China International Capital Corporation, said such bonds are a new option for both domestic and foreign investors who are looking for ways to diversify their investments.
"Investors could turn to SDR-denominated bonds considering their advantage in minimizing currency fluctuation risks," she said.
Echoing her statement, Li Chao, chief economist with Beijing-based Huatai Securities Co Ltd, said the development of the SDR-denominated bond market in China would help rebalance the world monetary system and increase the appeal of the SDR in the future, as more financial institutions are expected to follow the World Bank's lead and issue such bonds.
In the meantime, more efforts to attract private investors are needed, according to Zhao Xueqing, an economist with the Institute of International Finance, a think tank under the Bank of China.
"Both top-down and bottom-up approaches are needed," said Zhao.
She suggested that more participation by government backed agencies, liquidity support and eased entry are needed to attract private investors, while issuers will "have to resolve issues such as pricing schemes and risk management".