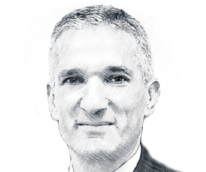 Christoph Frei, secretary-general of the World Energy Council
Security of energy supplies is crucial to the G20 agenda of global growth, and China should play a bigger role in global energy security and climate change mitigation governance, said Christoph Frei, secretary-general of the World Energy Council.
Frei said ensuring energy supply relies on two important aspects: developing innovative technology, and commitments by governments to reduce trade barriers for such technology.
China has great potential to lead in both aspects, Frei told China Daily in an exclusive interview ahead of the G20 Leaders Summit in Hangzhou.
"The G20 meeting is taking place against the context that global growth speed is slowing, so security of energy supplies is important in reviving global growth as energy is the basis of key aspects of our economy," Frei said.
Energy efficiency is an important item on the G20 agenda. In July, the G20 energy ministers met in Beijing and agreed to take global leadership in promoting energy efficiency. They discussed the development of renewable energy, opportunities and challenges in global energy development, and energy technology and innovation.
Frei said innovation is needed to develop technology in clean energy and renewable energy, and countries should work together to ensure that the latest innovative and efficient energy can be traded without barriers.
"China can make a big contribution to innovation, because many Chinese companies are highly innovative. An example is the Chinese company BYD in developing electric vehicles and exporting them internationally. It is encouraging to see that such Chinese technology is now developing inter nationally on a global scale," Frei said.
"The large domestic market and high level of competition in China has helped Chinese companies to be innovative on this front," he said.
"The G20 being in China has a special significance. In particular, we expect China to take this opportunity to increase its role in global energy governance.
"In the past, global energy governance was implemented by multinational organizations," Frei said, like OPEC, the International Energy Agency and the World Energy Council. "But I think China will take the G20 opportunity to increase its participation in energy governance.
"This means China would not just make commitments toward energy efficiency and climate change reduction targets itself, but actively participate in the process for developing a framework to hold other countries accountable for reaching emission reduction commitments and actively make sure other countries fulfill their promises," Frei said.
China already leads in implementing climate and energy policies, as outlined in the 13th Five-Year Plan (2016-20), which puts energy security and clean energy development in strategically crucial positions, he said.
China's commitment at the Paris Climate Change Conference in 2015 was significant as it also helped to encourage other countries to make commitments on carbon policy, he added.