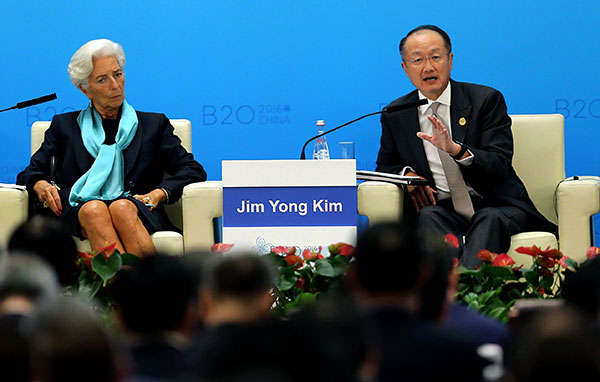 Christine Lagarde, managing director of the IMF, and Jim Yong Kim, World Bank president, take part in the B20 Summit in Hangzhou on Saturday. Wang Zhuangfei / China Daily
Even though the world has made marked progress in financial regulation since the 2008 crisis, relaxing supervision now would be a mistake, Christine Lagarde, managing director of the International Monetary Fund said on Saturday.
Lagarde said that all tools available should be used to promote financial stability and stimulate growth, warning that the world could see the slowest growth since 2008 this year.
The tools to which she referred include fiscal and monetary policies, as well as some structural reforms.
She made the comments at the B20 Summit, a forum for business leaders that opened on Saturday ahead of a gathering of leaders of G20 economies in Hangzhou, Zhejiang province.
Developing more effective and efficient global economic and financial governance to facilitate sustainable and balanced growth will be a central topic of the G20 Leaders Summit, which opens on Sunday.
The global financial market has experienced some volatility this year, experts say, because of investors' concerns about the increasing divergence of the monetary and fiscal policies of the world's major economies.
Lagarde's call for compatible policies among G20 economies to create financial stability and spur growth was lauded by Chinese experts.
E Zhihuan, an academic committee member at Renmin University's International Monetary Institute, said the priority for G20 members should be promoting concerted action to execute monetary and fiscal policies to keep economic growth on track.
"Leaders will likely reach consensus in areas including maintaining global financial stability and avoiding competitive currency devaluation," E said.
She said that G20 members need to strengthen cooperation on global financial governance to promote growth and prevent global systemic risks.
Meanwhile, green finance, for the first time, has been included on the G20 agenda. The G20 Green Finance Study Group released a report identifying challenges in green finance and suggesting voluntary options for countries to consider.
China has called for the development of green finance to provide companies with funding for clean technology and green projects that can help keep the country's economic transition on a sustainable track.
"The task force is well placed ... to source the financing that is needed to support ... the world's infrastructure and clean energy requirements," said Bill Winters, group chief executive of Standard Chartered, who was on the B20 Financing Growth Task Force.