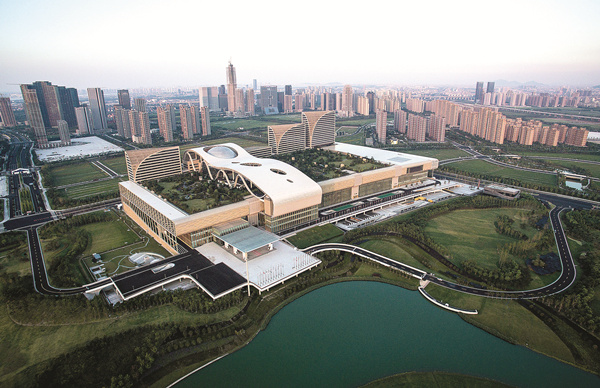 The Hangzhou International Expo Center will be the main venue for the G20 Leaders Summit, which will be held on Sept 4 and 5 in Hangzhou, the capital of Zhejiang province. [Photo/Xinhua]
As the opening of the G20 Leaders Summit draws near, Hangzhou, the host city, is quickening its step to promote its signature beauty and entrepreneurship overseas.
One of the strongest endorsements has come from Jack Ma, founder and chairman of the Hangzhou-based global Internet giant Alibaba.
In a TV interview on Thursday, he explained why he chose to stand with Hangzhou from the very beginning.
"Because this city has entrepreneurship. It's so friendly to private sectors, and people here are well-educated," Ma said.
"We've got great talent, we've got a good environment, and we've got great culture, fighting for the future."
Although many may have been surprised when Hangzhou was chosen to host the summit, economic statistics suggest it well deserves the honor.
When the national economy grew at 6.7 percent in the first half of this year, the lowest in more than two decades, Hangzhou steamed ahead with 10.8 percent growth, joining hands with Chongqing as China's only two cities with a double-digit growth rate.
Walking along the streets of Hangzhou, through centuries-old allies and along Broadway-like Yan'an Avenue, a tourist can get whatever he or she wants with just a smartphone, via Alipay or WeChat Pay. No cash or credit cards are needed.
Starting this month, one can rent public bikes simply by scanning the QR code with a phone, no deposit required.
"I feel so proud. This is a city I will always miss, no matter where in the world I go," Ma said.
Meanwhile, a short video showcasing the beauty of Zhejiang province and its capital, Hangzhou, is being shown on CNBC channels during prime time until Sept 12.
The video, created by CNBC's Catalyst Content Studio, highlights some of Hangzhou's finest attractions.
From famous sights like the Qiantang River and West Lake to the headquarters of leading internet corporations, the video shows how the city has built its legacy on a long history of commerce and seafaring and developed into a vast modern hub of technology, imports and exports.
"As tea flows from the pot and warms the soul, as a lake massages the shores and nourishes the well-being of those who seek its serenity, Hangzhou is an ecosystem built for the future," a narrator says.
In 1972, when then-US president Richard Nixon came to rebuild relations with China, much of the negotiations and discussions were conducted in Hangzhou rather than Shanghai, where the final document was signed. Some scholars say the relaxing scenery in Hangzhou helped the two nations reach a deal.
"I think it's great to see another side of China," said Jaime Brett, 26, a student of media studies at New York University who is from Ohio.
"When we think of China, we tend to think of the Great Wall, pandas, Shanghai's skyline, but not a scenic city like Hangzhou," Brett told China Daily. "I think the video is perfect at showing us the diversity of China's cities."
Judy Zhu in New York contributed to this story.