Where freelancers, startups party 24x7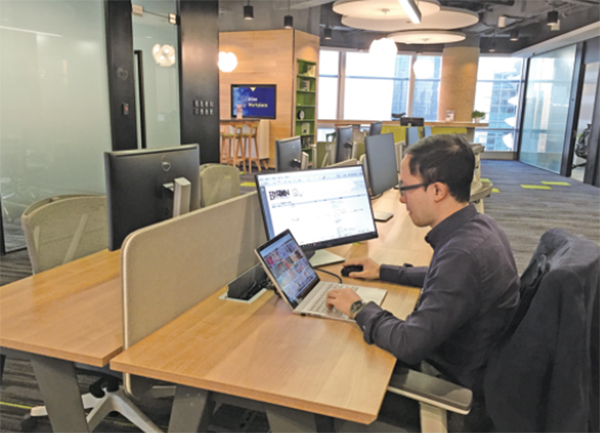 An entrepreneur works at his desk in the ATLAS Workplace in Guangzhou, Guangdong province. The co-work space will open a site in Shanghai this year. [Photo provided to China Daily]
You have a business idea and have even raised some money for your dream startup, but without a proper space to work, the business may run aground.
But, most startups tend to be cash-strapped initially, and hence unable to afford to rent, let alone own, a full-fledged office straightaway.
Such startups are a global phenomenon now, and are particularly ubiquitous in urban China. To meet their needs, the commercial property industry has invented co-work spaces, in line with the trend of the sharing economy.
Take, for instance, the US-based co-work space firm WeWork's site in central Shanghai.
Jasmine Jin walks into her six-desk, 12-square-meter office at 9 am, grabs a cup of freshly brewed coffee at the pantry, and joins her small army of co-workers of OneMoreCloset, a startup whose online platform allows users to share their fashion.
For co-founder Jin and her staff, the morning coffee, and many other conveniences that are part of the WeWork package, make a huge difference.
Operating from WeWork, OneMoreCloset has been in business with no more than a couple of wardrobes as its office fixtures. The cupboards hold fashion like all-black evening dresses to colourblock to studded pants. All else-furniture, printers, internet, pantry, housekeeping, meeting rooms, so on-are provided by WeWork.
Thousands of entrepreneurs such as Jin and startups such as OneMoreCloset wouldn't settle for anything less these days.
Co-work spaces such as WeWork are not owned or rented by an individual or a company. Individuals or groups rent workstations or portions of office space on yearly, monthly, weekly or even daily subscriptions.
What's more, when entrepreneurs from different paths work on the same premises, a vibrant community evolves, connections develop, networking ensues, which could help foster mutual growth. Conceivably, office-sharing could well lead to success-sharing.
For instance, OneMoreCloset's office sits opposite a one-desk office of a catering services provider. Next to them, a more spacious office portion that hosts tens of providers of financial services. And next to them, a wine distributor. A neighbor could be a visitor, a visitor a potential customer. And a customer a future partner.
"The best part of being a tenant here is that you can make full use of various services, and you see opportunities everywhere. It's like a 24-hour party of entrepreneurs. Everyone wants to know about everyone else's business. 'How I can help others through my business?' That's what drives us. You can have a shower late at night because this space is open 24x7. You've all the flexibility, all the convenience and all the joy of being a part of an innovative community," said Jin.
Encouraged by the experience so far in Shanghai, OneMoreCloset is planning to open an office in the United States, again at a WeWork site. "You can set up an office and start operations quickly in overseas markets," said Jin.
That's because co-work spaces abroad offer loads of "value-added" services. The website of one such co-work space provider lists the following among its features: workstations, conference rooms, photocopying and printing, free or discounted access to events, high-speed Wi-Fi, 24x7 power backup, lockers, document storage, food and beverages, lounges, cafes, games area, gym, shower area.
"A desk can be rented for some 3,000 yuan ($435). Given other freebies, savings work out to more than what you would pay toward rent for a conventional office. For example, you don't have to decorate the office, thus saving hundreds of thousands of yuan. You don't have to hire a housekeeping team, a receptionist, an admin person, a facility manager-all these services are provided at very low prices or free of cost. That helps you save at least 200,000 yuan in the first year of operations," said Hu Jinwen, an entrepreneur whose startup in Wuhan develops children's reading materials.
As competition intensifies, co-work space operators are pulling out all the stops to attract and retain tenants.
"Free coffee and snacks are old hat. Free networking events and facilities renting are a plus. The best operators even help tenants find potential investors and facilitate funding," said Hu.
Some operators even help their tenants get exposure to public. Why, a few actually fund their tenants' startups that offer bright prospects, giving co-work spaces the dimension of business incubators.
That could be happening because ride-hailing giant Uber hit pay dirt in Philadelphia in the US operating out of a co-work space spanning almost an entire floor. So, it is not uncommon anymore to see some developers transforming a couple of floors of an office building into co-work sites.
"Co-work spaces aren't denting the market share of office buildings. Instead, they are becoming part of the office building market. Some well-run projects are brightening the reputation and brand of developers and office-building projects," said Albert Lau, CEO of Savills China.