Tencent film unit aspires to make own blockbusters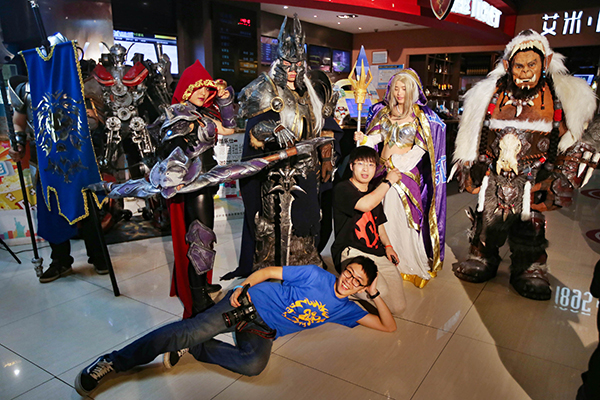 A group of cosplayers pose at the entrance of a movie theater in Nanjing, Jiangsu province. [Photo/China News Service]
Tencent Pictures, the film unit of China's biggest internet company, is looking for acquisitions that can accelerate plans to make its own blockbusters instead of just writing checks for them.
The potential targets could be in Hollywood and include companies on both the creative and production sides of moviemaking, chief executive officer Edward Cheng said in an interview. He wouldn't elaborate except to say Tencent Pictures considers whether a target complements its own abilities and resources.
"Investment is one of many ways to drive our business," Cheng, 42, said. "We expedite our business development via suitable mergers and acquisitions. If it helps our growth at the right time, we are very open in that regard."
The company is clashing with fellow titans Alibaba Pictures Group Ltd and Dalian Wanda Group Co, both of which are spending big to gain an even larger share of China's projected $10.4 billion in box-office receipts.
Alibaba Pictures, part of the online emporium that made Jack Ma the richest person in China, invested in Mission: Impossible-Rogue Nation and acquired a stake in Steven Spielberg's production company, Amblin Partners.
Dalian Wanda, run by billionaire Wang Jianlin, paid $3.5 billion for Legendary Entertainment and $1 billion for Dick Clark Productions Inc this year alone. It's releasing Great Wall, a big-budget action fantasy starring Matt Damon, in China this month.
"In the future, we will work with Hollywood, which has professional expertise, and better explore the global market," Cheng said. "We will also actively look for opportunities."
Potential targets for Tencent Pictures could range from a Hollywood studio to a computer-animation company, said Billy Leung, a Hong Kong-based analyst at Haitong International Securities Co.
"All these Chinese mainland players, including Alibaba and Tencent, are trying to ramp up their self-production content," Leung said. "It's just a competition of who spends more."
The Hollywood buying spree comes at a tense time in US-China relations, with president-elect Donald Trump criticizing China's currency and trade policies, and some US lawmakers calling for increased scrutiny of Chinese takeovers of US companies.
Shenzhen-based Tencent Holdings Ltd, whose online games and WeChat messaging service fueled its growth into Asia's biggest technology company, has been involved in $20.8 billion of acquisitions and investments announced this year, according to data compiled by Bloomberg.
Subsidiary Tencent Pictures is best known for investing in this year's Warcraft, one of the most-popular movies in China, and the upcoming Kong: Skull Island. It recently announced 21 of its own projects as part of a $295 million spree that includes adapting Chinese-centric content for movie and TV screens around the world.
"We will provide more of our input when we work with Hollywood partners," Cheng said. "There are many elements of Chinese culture that can be developed into films for the whole world and not just a Chinese audience."
Bloomberg