Conference maps out plans to bolster real economy transition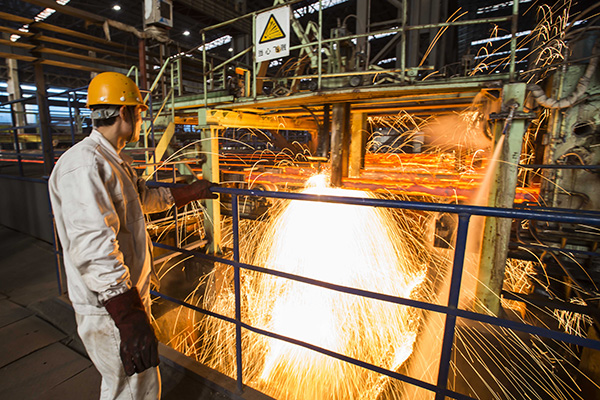 A worker at a steel company in Lianyungang, Jiangsu province, in January 2015.[Photo/China Daily]
That China will maintain mixed ownership reform as a key facet of State-owned enterprise reforms was the consensus at a top level economic work conference on Friday.
Mixed ownership will generate substantive progress in sectors such as power, petroleum, natural gas, railway, civil aviation, telecommunication and military, according to a statement issued at the close of the Central Economic Work Conference.
Mixed ownership should be carried out with good governance, strengthening incentive as well as enhancing efficiency, the statement said.
The conference, which ended on Friday and was held by the country's top leaders to map out economic and reform plans, is closely watched by investors for clues on policy priorities and economic targets for the year ahead.
China will also focus on improving product quality and core competitiveness to bolster the real economy next year, the statement said.
The country will continue to push forward its innovation-driven development strategy and improve its business environment to allow overseas investment to play a bigger role in strengthening the real economy, it said.
The national economy has recovered from the soft patches this year, and investment has picked up in many key sectors since September.
China's industrial output expanded by 6.2 percent year-on-year in November, thanks to the electronic equipment and automobile sectors, according to the National Bureau of Statistics.
Energy consumption, a barometer for economic activity, grew by 5 percent year-on-year from January to November, compared with 4.8 percent in the first 10 months, according to the National Energy Administration.
Economists suggest reducing tax and barriers for entrepreneurs to further stimulate the real economy and prevent excessive funds from flowing into fields outside the real economy.
"China needs to accelerate its financial reforms and innovate to extend substantial financial support in the real economy," said Zong Liang, deputy director of the Institute of International Finance at the Bank of China.
"Many of the country's real economy sectors are not making profits, and corporations and enterprises face a higher taxation than they should," he said.
According to Huang Zhilong, macro-economy research chief at the Suning Institute of Finance in Nanjing, active private investment comes only when the country's real economy is booming. Current private investment into the real economy is challenged by a series of hurdles such as high barriers to entry, financing difficulties and heavy tax burdens, he said.