Entrepreneurs compete for funds, awards in Beijing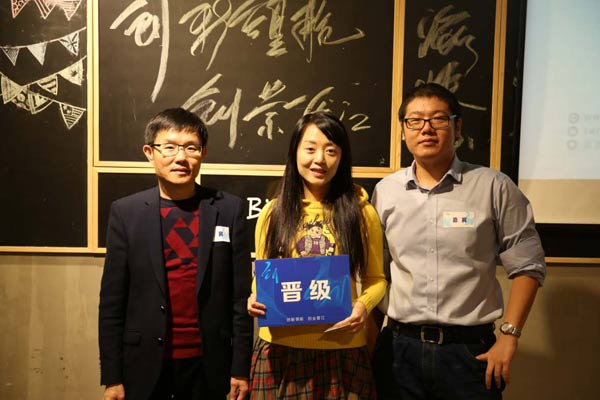 Fang Zhaoxue (middle), co-founder of ekuaibao, makes it directly through to the final round in the Beijing section of the first Strait Cup (Jinjing) Innovation and Entrepreneurship Competition, Dec 14, 2016. [Photo provided to chinadaily.com.cn]
Standing under eyes of the crowd, Li Yun, a post-70s entrepreneur who runs a cloud-based crowdsourcing call service platform, only had eight minutes to convince the six professional investors sitting in front of him that his project is promising.
He was in the Beijing section of the first Strait Cup (Jinjing) Innovation and Entrepreneurship Competition, competing with 54 other contestants in the preliminary round from December 14 -15 to qualify for the next round.
"What my company needs most at the current stage are funds and exposure. I think the competition is an opportunity," Li said.
In the past four years, Li participated in more than 60 entrepreneurship competitions held by city governments at all levels across China. He won a prize once, but has not received what he really desires yet, the favor of investors.
Fang Zhaoxue, co-founder of ekuaibao, an online enterprise consumption and reimbursement management solution provider, showed a relatively relaxed attitude towards money in the competition.
"I am not here for funding. Our company raised 30 million yuan ($4.33 million) in a round of financing from DCM Ventures on October 25," Fang said to the judges at the road show.
She became the first contestant to make it directly through to the final round.
Most entrepreneurs in the competition are from the fields of electronic information, internet and mobile internet. Their startup projects cover a large range of things from online knowledge sharing platforms, online dating platforms to internet plus poverty alleviation platforms.
Liu Ning, a judge in the competition and investment director of China Venture Capital Co Ltd, said the content of these projects are diversified, but internet entrepreneurs need to seriously consider their profit models.
"We prefer investing on startup projects that aim at the masses, can be used in high frequency, meet rigid demands and can spread fast," said another judge Li Yi, senior investment manager of 36 Kr, an ecological service platform for internet startups.
A couple from Taiwan working on a new energy project also participated in the competition. Chen Shumin, the wife, said, "We have been running our company in Beijing for two years, feeling innovation and entrepreneurship are increasingly encouraged here."
Since Premier Li Keqiang called for "mass entrepreneurship and innovation" at the Summer Davos in Tianjin, in 2014, it has been viewed as a new engine for China's economic growth.
A total of 633 domestic and foreign entrepreneurs were short listed in the first Strait Cup (Jinjing) Innovation and Entrepreneurship Competition held by the Jinjiang municipal government. Besides Beijing, the competition is also held in Hangzhou, capital of Zhejiang province and Jinjiang, Southeast China's Fujian province.