Finance ministry rolls out tax relief for debt-laden Chinese companies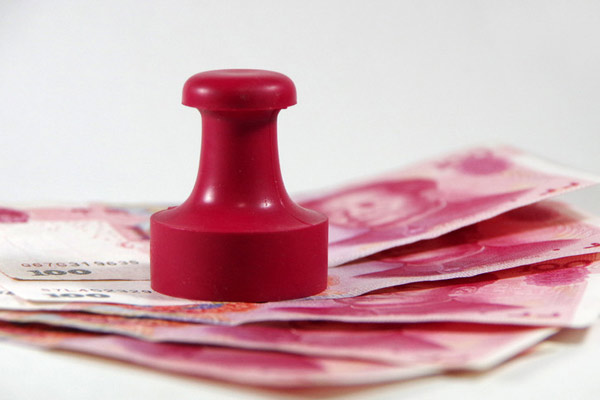 File photo shows a seal placed on several 100 yuan notes.[Photo/IC]
The Ministry of Finance on Tuesday issued preferential tax policies for companies engaged in debt-reducing corporate restructuring.
Preferential tax policies would be applied to multiple transaction activities while companies go through bankruptcy, mergers and acquisitions, and liquidation.
Such policies include deferred tax payments and tax payments in installments for non-monetary assets, according to a notice published on the ministry's website.
Value-added tax will not be imposed on transfers of fixed assets and land-use rights, according to the notice.
Local governments are required to strictly implement the tax policies, in order to help lower the costs and create a favorable environment for corporate deleveraging, the notice said.
The notice was issued after the State Council, the nation's cabinet, issued a guideline in October to encourage companies to adopt market-oriented debt-for-equity swaps, an important measure to reduce corporate leverage.
The guideline stressed that the government would not provide free lunches to loss-making "zombie" companies and would not intervene in the companies' restructuring process.
Zhang Lianqi, a financial expert who consults with the ministry, said the notice offers clarity on details like how the government will use taxes as a tool to effect changes and what transactions are eligible for preferential policies.
"Tax policies will provide positive incentives for enterprises to lower their debt and help them go through the (current) difficult period amid downward economic pressure. The policies will particularly help loss-making companies ridden with overcapacity and facing debt problems for long," said Zhang.
Zhang expects the government will roll out more targeted policies for enterprises in certain sectors, and successful corporate restructuring cases will be studied in future.
"As a key part in the implementation of supply-side reforms, deleveraging would continue to be among China's important tasks next year," said Zhang.
Marie Diron, associate managing director at Moody's Investors Service, said it is crucial to ensure supportive policies actually benefit efficient enterprises with high productivity, not loss-making ones.
"It takes time for China to see how policies would support the nation's reform process," she said.
Mounting corporate debt has become one of the country's biggest challenges, raising the specter of a potential financial meltdown, the International Monetary Fund had warned in its annual report on the nation's economy earlier this year.
The Bank of International Settlements estimated that China has $18 trillion in corporate debt, which is equivalent to about 169 percent of GDP, compared with percent of the 71.7 percent of US and 100.5 percent of Japan.