CNPC spins off natural gas sales, pipeline units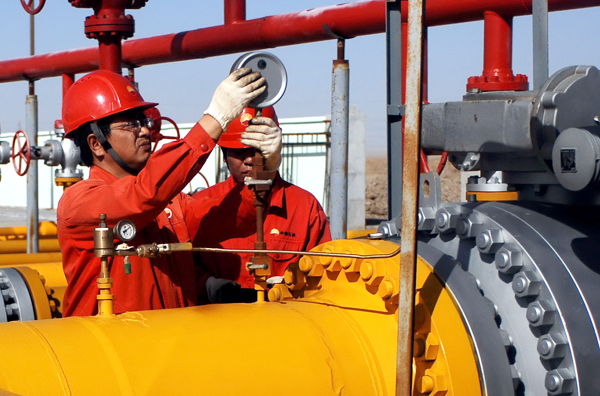 Workers replace a pressure meter at the natural gas pipeline of China National Petroleum Corp in the Qaidam Basin in Qinghai province. WANG BO / XINHUA
Move will fuel market reform of natural gas sector, help formulate market-oriented prices
China National Petroleum Corp will split its natural gas sales and pipeline units, a move which will further accelerate natural gas industry reform and promote a market-based pricing system for the sector.
The newly separated pipeline company will be responsible for all pipeline-related operations, while the corporation will establish five individual natural gas sales companies.
The pipeline unit of the oil and natural gas major was previously responsible for both natural gas pipeline operation and sales.
Xu Wenrong, vice-president of CNPC, said the move is significant in accelerating market reform in the natural gas sector.
An analyst also said the spinoff of the natural gas pipeline operations and sales business will move the company in the direction of a more subdivided natural gas sales organization and let the market play a decisive role in resource allocation.
According to Sun Yang, an analyst from Zhongyu Counsel, a counseling agency in the fields of coal, steel, oil and natural gas, the separation of natural gas sales and pipeline units will help speed up market reform in the natural gas sector and help formulate market-oriented prices for clean energy.
The company recently raised non-residential natural gas prices in the country's northern regions, to help manage peak demand during a winter expected to be the coldest in four years.
It raised prices by 10 percent in Shandong province, and gas prices were also increased in the northeast to deal with a "very tight supply" in the peak winter period.
The State-owned company said earlier that it would increase investment in natural gas pipeline construction and gas sales in the coming decade.
The company, Asia's biggest oil and gas producer, currently allocates 70 percent of its total budget to natural gas production and around 10 percent to gas pipeline construction. It is expected to increase these figures as it focuses more effort on its gas business, said Hou Qijun, head of CNPC's planning department.
Hou said the firm would expand its annual gas output to 180 billion cubic meters by 2020 from the current capacity of 120 billion cu m.
PetroChina Co Ltd, CNPC's listed arm, said its profits from natural gas and pipelines slumped nearly 36 percent to 4.7 billion yuan ($703 million) in the first four months of 2016.
The 2050 energy outlook report, released by CNPC's research institute, shows that China's natural gas use will surge to 510 billion cu m by 2030 and 710 billion cu m by 2050.