Coca-Cola returns to franchise model to focus on core brand strength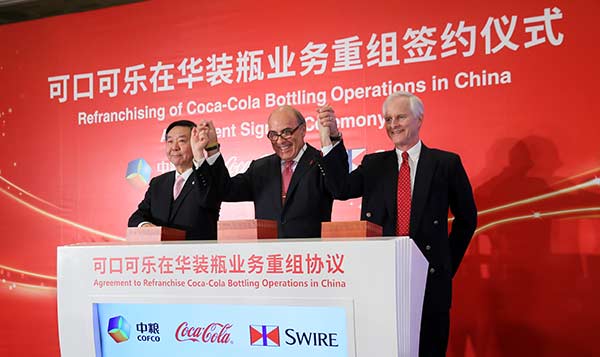 Muhtar Kent(center), chairman and CEO of The Coca-Cola Co, signs the refranchising agreement with Zhao Shuanglian, chairman of COFCO Corp, and John Slosar, chairman of Swire Pacific Ltd on Saturday.[Photo/chinadaily.com.cn]
To improve the efficiency and scale of its local partners, the world's largest beverage group The Coca-Cola Co signed an agreement on Saturday to refranchise all its bottling operations in China, in a move to return its focus to the company's core strengths, said senior executives.
Under the transaction, Coca-Cola will divide its bottling system in China between two franchise partners - COFCO Corp and The Swire Group. As two longstanding partners, the companies have worked with the Coca-Cola for more than three decades, since the company first returned to the Chinese market in 1979.
"This refranchising is part of our broader global strategy and we believe that this is a great win-win," said Muhtar Kent, chairman and CEO of Coca-Cola.
"We position these companies to leverage greater scale, capability and efficiency throughout China, to invest for growth and to deliver improved services to customers and consumers in a fast-changing marketplace," he added.
Kent said that the key to Coca-Cola's success has always been its strong brands: "Our core business is creating the right strategies, best brands and leading a system of bottling partners around the world." He added that strong brands lead to strong franchises, a business investment that grows the whole industry.
Coco-Cola owns bottling plants and franchises in markets such the United States, Europe and Japan. In China, it previously had three major bottling groups - Bottling Investment Group China, COFCO Coca-Cola Beverages Ltd and Swire. Three years ago, it decided to return back to its core business. For example, the company completed its franchising transition earlier this year in Germany via a new bottling business named Coca Cola European partners.
Zhao Shuanglian, chairman of COFCO, said this restructure in China will create great value for shareholders and the wider society: "Global refranchising, and refocusing on brands and markets are strategic decisions in Coca-Cola's century-long history. The scale effect, regional synergy and cost optimization that the new initiative brings will certainly boost Coca-Cola and its partners to achieve a new leap forward in China."
He added that the country's long and stable economic growth provides great opportunities for the sustainable development of the beverages industry, despite the recent market fluctuations.
John Slosar, chairman of Swire Pacific Ltd, said he is also optimistic about the long-term growth prospects for the beverage industry in China. "We are convinced that this realignment will optimize the Coco-Cola system, accelerating growth and enabling us to win in the market," Slosar said.
Last year, production of soft drinks in the domestic market reached more than 170 million tons, up 8.6 percent year-on-year.
Since 1979, Coca-Cola has invested $9 billion in China, its third-largest market after the US and Mexico. It is currently investing $4 billion locally for future growth, in a project spanning 2015-17.
Curt Ferguson, Coca-Cola's president of Greater China and Korea, said no matter the dips and rises in the economy, the company sees unlimited potential, as it forges ahead and explores. "China is certainly an aggregate and will surpass all of our business one day throughout the world," said Ferguson.
He added that the tremendous growth in local business has pushed Coca-Cola to innovate a series of new brands, such as orange juice and a lemon drink containing natural honey, both developed in China.
"Sometimes the right path is the harder path, such as incorporating sustainability. In China, for every ounce of water we use, every milliliter of water, we replace 123 percent more than we consume," he said.
"As for innovation in the future, we will keep on expanding our portfolio to the taste of our Chinese consumers," Ferguson added.
He said online platforms are now a vital marketing channel for Coca-Cola: "We are selling huge quantities of products through e-commerce platforms in China, not only through Alibaba Group, but also others like JD.com and Womai.com."
Currently, Coca-Cola has a total of 500 sparkling and still brands and 3,800 products globally. It has more than 15 brands and offers over 50 beverage choices to Chinese consumers, who enjoy 150 million servings across the country every single day.

wangjinhui@chinadaily.com.cn