Gree suspends Yinlong takeover plan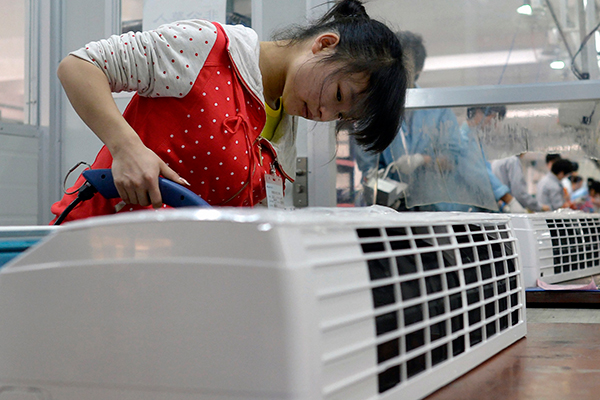 A worker assembles an air conditioner at Gree's plant in Wuhan, capital of Hubei province. [Photo provided to China Daily]
Major Chinese home appliances and air conditioner maker Gree Electric Appliances Inc has suspended a plan to buy Zhuhai Yinlong New Energy Co, after failing to win approval from the electric vehicle maker's shareholders, according to a statement from Gree.
Gree, based in Zhuhai of Guangdong province, announced in early August it would buy all the shares of the new-energy vehicle manufacturer for 13 billion yuan ($1.89 billion), in a strategic move aimed at diversifying its businesses.
The termination of the acquisition plan would not have a negative effect on its major business, the home appliances maker said in a statement to the Shenzhen Stock Exchange on Wednesday evening.
The Shenzhen-listed company resumed trading on Thursday, after a suspension since February, with its shares rising 1.96 percent as of the close in trading.
According to the regulations of the Shenzhen stock market, Gree would not be allowed to issue new shares for any major acquisition plans.
Gree was informed by the Zhuhai Yinlong New Energy Co on Wednesday that shareholders of the electric vehicle makers had not approved the acquisition plan, which was revised in early November, according to the company statement.
Zhuhai Yinlong sold more than 7,000 new vehicles in 2015, with its production value reaching more than 10 billion yuan, according to the company.
Gree said in the statement that it would continue to look for more opportunities for business growth and improve its profit and boost its technology in the competitive home appliance market.
The company's suspension of the acquisition plan followed its president Dong Mingzhu's resignation as chairman of Gree's State-owned parent company, Zhuhai Gree Group, in October, as part of new regulations under which on individual cannot be chairman of both a holding group and a listed company, according to Nanfang Daily.
Early this year, Dong said the company would boost its market presence by diversifying its businesses, including entering the electric vehicle and mobile phone industries.
However, industry insiders said the termination of the acquisition plan would help Gree concentrate more on its core business base.
"Some shareholders in Gree even do not agree with the acquisition as the company reported slow business growth in new sectors," said Liang Zhenhua, a home appliance researcher with the Guangdong Household Electrical Appliances Trade Association.
According to company sources, Gree reported 82.42 billion yuan in sales revenue in the first three quarters, a year-on-year increase of 1.11 percent.