Stable Chinese economy drives strong consumer confidence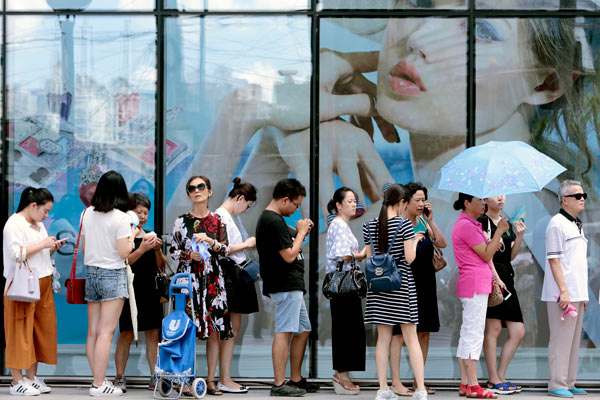 Buyers line up outside a duty free shop which opened in downtown Shanghai, Aug 8, 2016. YIN LIQIN/FOR CHINA DAILY
China's Consumer Confidence index remained unchanged, Nielsen's latest survey shows.
Nielsen Greater China president, Yan Xuan, said consumer confidence for the third quarter was at 106, the same level as this time last year.
"China's economy is generally in good shape and on track for stable economic growth and restructuring, the stabilizing consumer confidence index further proved that Chinese consumers are adjusting to the new trend," Yan said.
The report found six in 10 Chinese respondents were confident about their personal finances and job prospects in the coming year, and just under half believed now is a good time to spend.
"While facing continued downward pressure and global market uncertainties, China may experience some short-term pains during its economic transformation, but the country has plenty of space for maneuvering. Consumption contributed over 70 percent to overall GDP growth in the first six months of the year," Yan said.
Global consumer confidence increased one point from the second quarter to a score of 99.
Apart from China, four of the world's top 10 economies posted optimistic scores of 100 or higher: US (106), UK (106), Germany (100) and India (133).
"We believe China is capable of keeping its economy on track for sustainable growth, and consumption will continue to be an important driver for the country's economic growth," said Eva Ng, vice-president of Nielsen China.
The Nielsen Consumer Confidence Index measures perceptions of local job prospects, personal finances and immediate-spending intentions.
Consumer confidence levels above and below a baseline of 100 indicate degrees of optimism and pessimism.