Oil firms suffer revenue dip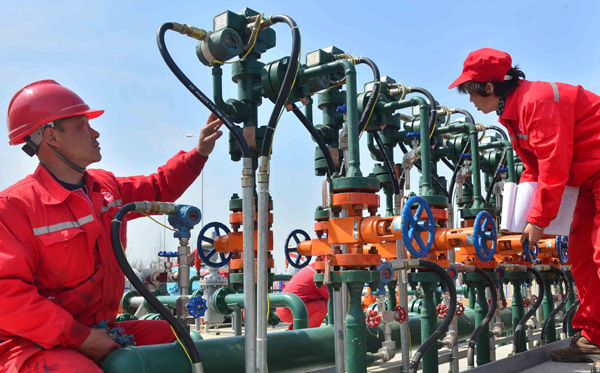 Workers inspect the gas and oil facilities at an oilfield belonging to China Petrochemical Corp in Puyang, Henan province. TONG JIANG / FOR CHINA DAILY
Lower prices and weak demand take toll on global energy producers
China's oil and gas giants saw their revenues slump in the July-September period, according to their financial reports, against the backdrop of a suppressed global oil and gas market and lower domestic natural gas prices.
The third-quarter reports of China's big three oil firms-China National Petroleum Corp, China National Offshore Oil Corp and China Petrochemical Corp-showed that CNPC's revenue fell by 3.8 percent to 411.4 billion yuan ($60.97 billion), CNOOC by 15.2 percent to 30.75 billion yuan, and Sinopec by 3.1 percent to 472 billion yuan.
The drop in revenues for the big three is a direct result of plummeting international oil prices, as well as weak economic growth. So, the glory days of high oil prices have long gone and the downtrend will continue, said analysts.
Wang Lu, an Asia-Pacific oil and gas analyst from Bloomberg Intelligence, said cheap oil and lowered gas prices are the major reasons behind the revenue declines of PetroChina, Sinopec and CNOOC.
Oil firms have shut down high cost wells, reduced infill drilling and renegotiated contracts to cut costs, said Wang.
According to Dong Xiucheng, a professor at the China University of Petroleum in Beijing, while oil companies are struggling when prices are falling, it is an opportunity for them to restructure and reduce costs.
Deteriorating business in oil exploration is not all bad, Sinopec has taken advantage of falling oil prices to lower its production costs for the downstream refining business.
It reported a sixfold third-quarter profit rise as refining gains helped overcome deepening losses from oil and gas production, while CNOOC and CNPC witnessed declining profits during the past three months.
According to Wang, Sinopec's gains in refining, chemicals and marketing more than offset its exploration and production losses. CNOOC is a pure upstream company, so its earnings are most exposed to low oil prices among the three oil majors.
PetroChina's refining, marketing and chemical segments are weaker and smaller than Sinopec's, while its exploration and production unit is bigger than Sinopec's. That's why PetroChina had an earnings decline despite improvements in the downstream sector, she said.
The State-owned companies are not alone among international peers struggling with plummeting oil and gas prices. Exxon Mobil Corp has recently extended its longest streak of profit declines, while France's Total SA also posted a 25 percent drop in third-quarter profit.