Battle looms in container shipping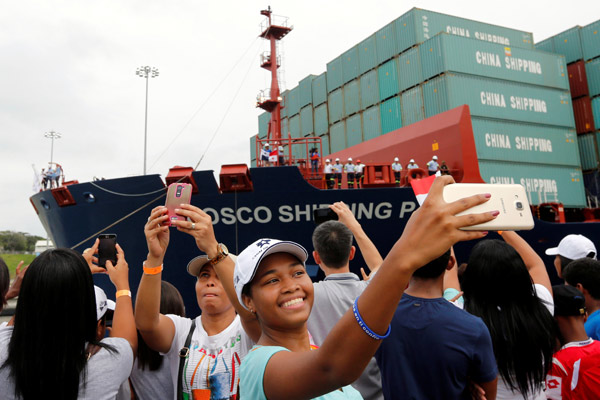 A woman takes a selfie as Chinese COSCO container vessel navigates through the Agua Clara locks during the first ceremonial pass through the newly expanded Panama Canal in Agua Clara, on the outskirts of Colon City, Panama, on June 26. [Photo / Agencies]
OCEAN Alliance to deploy 350 vessels to take on major rival 2M
OCEAN Alliance, formed by China COSCO Shipping Corp Ltd, France's CMA CGM SA and another two partners in April, on Thursday announced it will deploy 350 container vessels to the global market to further challenge 2M, another major global container carrier alliance.
With a total carrying capacity of 3.5 million twenty-foot equivalent units, or TEUs, OCEAN Alliance will be able to provide a service coverage in the market on a number of trade lanes including 20 trans-Pacific and six Asia-Europe shipping services.
Formed by Denmark's Maersk Line and Switzerland's Mediterranean Shipping Co SA, 2M started its operations in 2015, and controls more than 2.1 million twenty-foot equivalent units, and manages more than 200 vessels.
Other members of the OCEAN alliance are Taiwan-based Evergreen Line and Hong Kong's Orient Overseas Container Line. They announced this shipping partnership in April to further enhance their earning ability and optimize operational efficiency amid the current decline in global trade.
"The top priority of the OCEAN Alliance is service quality and schedule reliability," said Wang Haimin, managing director of COSCO Shipping Lines Co Ltd.
"Unlike other shipping alliances, OCEAN Alliance has a Hong Kong-based operation center to monitor its operation and collect market information."
The four companies signed a document entitled the Day One Product, which sets out the proposed OCEAN Alliance's network, including port rotation for each service loop. The vessel deployment details for each service loop will be released by the end of this November.
"Customers will benefit from a competitive selection of sailing schedules and direct port pairs, fast transit times, and a highly efficient fleet of vessels to cater to the needs of today's demanding and increasingly green global supply chains," said Wang.
Rodolphe Saade, vice-chairman of CMA CGM, said member companies will have an attractive selection of frequent departures and direct calls to meet their supply chain needs, including access to a vast network with the largest number of sailings and port rotations connecting markets in Asia, Europe and the United States.
CMA CGM, a key driver in the alliance, will deploy 35 percent of container ships within the alliance's service network in the initial stage.
The members of the OCEAN Alliance also announced that they have filed the alliance agreement to China's Ministry of Transport, and that the US Federal Maritime Commission and South Korea's Ministry of Oceans and Fisheries have expressed approval of the OCEAN Alliance.
The OCEAN Alliance has also completed its self-assessment compliance review to the European Union.
Lee Mong-jye, president of Evergreen Marine Corp (Taiwan) Ltd said, the OCEAN Alliance will continue to work closely with all the authorities to ensure full compliance with applicable laws and regulations and secure the necessary regulatory approvals for the alliance to commence operations from April in 2017.