Li promotes SCO bank, free trade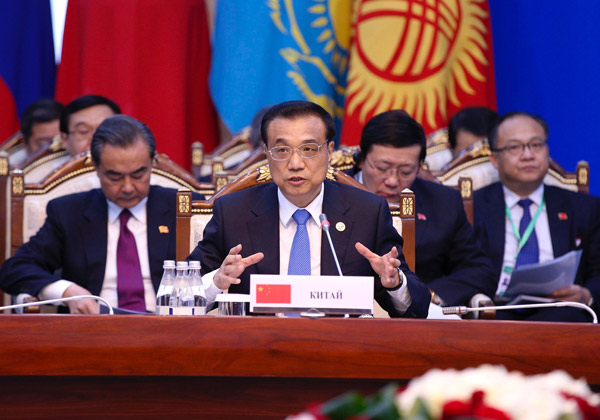 Premier Li Keqiang advocates the establishment of a free-trade zone at the 15th Meeting of the Shanghai Cooperation Organization Council of Heads of Governments in Bishkek, Kyrgyzstan, on Nov 3, 2016. LIU ZHEN / CHINA NEWS SERVICE
The six-member Shanghai Cooperation Organization on Thursday proposed to advance the establishment of a development bank and fund to boost financial cooperation.
The proposal was signed by member countries at the 15th meeting of the heads of government of the group, which consists of China, Russia, Kyrgyzstan, Kazakhstan, Tajikistan and Uzbekistan.
Premier Li Keqiang, attending the meeting, also said China is open to the establishment of a free-trade zone among the SCO members.
He called on SCO members to continue promoting investment and trade, as well as initiating feasibility studies for a free-trade zone.
"Member countries should break restrictions in the economy and trade by establishing a free-trade zone to expand wider-scale exchanges in this field," Li said.
A list of 38 "pragmatic measures" was approved at the meeting to govern cooperation in fields such as finance, transport and agriculture from 2017 to 2021.
Experts said these proposals showed that SCO is moving beyond traditional concerns like fighting terrorism, separatism and extremism to promote pragmatic cooperation in economic topics.
The six members cover 30 million square kilometers with about a quarter of the world's total population. It is working on legal procedures to grant India and Pakistan membership.
Ruan Zongze, vice-president of the China Institute of International Studies, said the SCO meeting is to help deepen economic cooperation and carry out projects in transport, production capacity and other fields.
Chen Yurong, an expert on the region's economy at the China Institute of International Studies, said the SCO members are in dire need of an FTA mechanism to boost their economies, while the group also has the necessary conditions for the establishment of an FTA.
Chen also said that the establishment of a development bank and fund will help break the bottleneck in development capital, and help realize many projects that the countries are planning.
Kazakh Prime Minister Bakhytzhan Sagintayev said the SCO needs to promote effective economic cooperation to stabilize their economies, and Kazakhstan would like to link up with China's Belt and Road Initiative and the Eurasian Economic Union, a Russia-dominated initiative.
After the meeting, Premier Li departed from Bishkek for Kazakh capital Astana to attend the 3rd Regular Meeting between Chinese and Kazakh Prime Ministers.