China's Sept industrial profit growth decelerates to 7.7%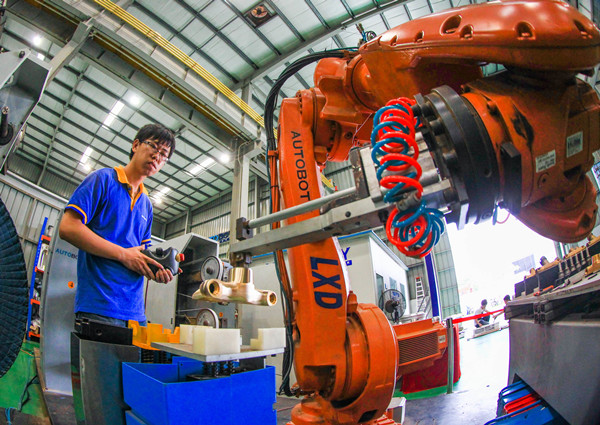 A worker assembles a robotic arm at a factory in Foshan, Guangdong province. [Provided to China Daily]
BEIJING -  China's industrial profits rose 7.7 percent year on year to 577.13 billion yuan ($85.25 billion) in September, official data showed Thursday.
The growth rate was slower than the 19.5-percent increase registered in August, according to the National Bureau of Statistics (NBS).
The NBS attributed the deceleration to slowing profit growth of electronics, steel and power sectors as well as the weakening effect of a low base.
"The September deceleration shows that industrial profits return to stable growth," said NBS statistician He Ping.
In the first nine months of the year, industrial profits expanded 8.4 percent year on year, same as the January-August period.
The bureau's calculations include companies with annual revenues exceeding 20 million yuan.
The NBS statistician said factory prices edged up 0.1 percent year on year in September, ending a 54-month run of declines, which indicated the contradiction between supply and demand in domestic industrial sector is easing.
Mining enterprises turned to gains in September as data showed profits of these companies rose 30.3 percent year on year in September, ending monthly declines since October 2013 and compared to a 25.3-percent drop in August.
Profits of state-owned enterprises (SOEs) increased 47.6 percent in September, the data showed. The growth rate was a new high since January this year.
The data, together with continous declines in inventory, leverage and unit costs, showed the country's ongoing supply-side structural reform drive was productive, said He.
During the first eight months, 31 of 41 industrial sectors reported year-on-year rising profits, with those of the petroleum processing, coking and nuclear fuel processing and the ferrous metal smelting and rolling processing industries both more than doubled.
In contrast, electricity, thermopower production and the supply industry witnessed a 5.7-percent decrease in profits during the same nine-month period. Oil and gas exploitation also posted losses.
Despite the positive profit data, He Ping warned of a grim outlook for industrial enterprises partially due to sluggish demand at home and abroad as well as corporate debt risks.