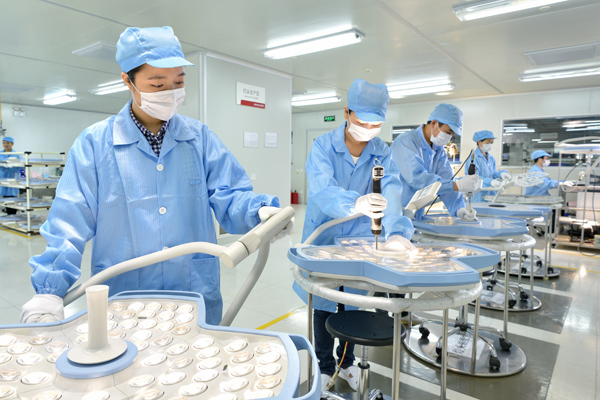 Workers at Mindray's Nanjing unit test bulbs for surgery theaters of hospitals. [Photo provided to China Daily]
Shenzhen Mindray Bio-Medical Electronics Co, which has already built up a solid market presence in developed markets, will deploy more resources and manpower in countries along the Belt and Road Initiative to further compete with its foreign rivals.
China's largest private medical equipment maker by sales revenue currently operates eight branches in Europe and has built extensive market channels in more than 4,000 hospitals and top-notch teaching hospitals in Europe, including the United Kingdom, France, Germany, the Netherlands and Italy.
"The opportunities come from these countries' increasing demand for public services and infrastructure projects, as well as building a modern healthcare service system in fast-growing markets including India, Kenya, Saudi Arabia, Egypt and Turkey," said Yin Luntao, the group's vice-president and general manager of international marketing and sales.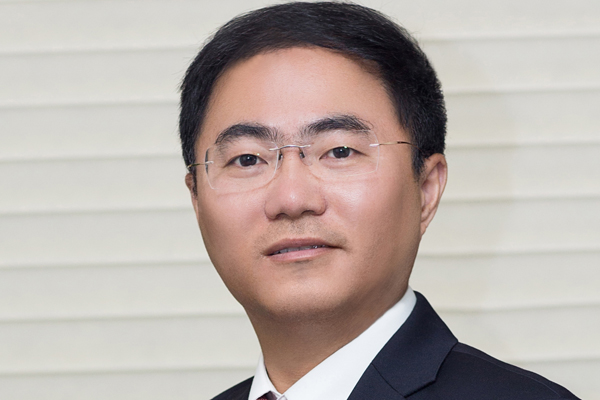 Yin Luntao, vice-president of Mindray Bio-Medical Electronics Co.
The infrastructure and trade network proposed by China in 2013 envisions a Silk Road Economic Belt and a 21st Century Maritime Silk Road, covering about 4.4 billion people in more than 60 countries and regions in Asia, Europe and Africa.
Take Kenya, for instance. Mindray, which has already launched some projects, is on its way to supply, install and maintain equipment for the national government's healthcare projects in 98 hospitals across the country. The hospitals can offer services to 80 percent of the country's total population.
To make better healthcare solutions more accessible to humanity, Mindray focuses its development in three key business lines, namely patient monitoring and life support equipment, in-vitro diagnostic devices and medical imaging systems for both the domestic and exports markets.
"Our core strengths lie in innovation and quality. In addition, strengthening services for staff training and after-sales service is an effective way of building a firm foundation for us to further cut financial risk in emerging markets," said Yin.
"Mindray's 'accessible innovation' philosophy drives us to provide high-quality products at affordable prices. This, along with localized and fast-response services, makes Mindray a competitive player in the market."
The company so far has built an extensive market and service network with 42 subsidiaries and branch offices in 32 countries in North and Latin America, Europe, Africa and Asia-Pacific, as well as 32 branch offices in China. Its products are sold to more than 190 countries and regions.
The private medical device manufacturer has three plants in Shenzhen and Nanjing, as well as more than 2,000 researchers. More than 10 percent of the company's sales revenue goes into research and development activities.
The company has not released the financial report for its 2015 fiscal yet. Its sales revenue was 8.1 billion yuan ($1.21 billion) in 2014, thanks to its fast growth in both developed and emerging markets.
Mindray's first subsidiary in Europe was established in the UK in 2005. "Similar to other parts of western Europe, the competition in the UK is ferocious because buyers have so many options," said Yin. "You really do have to grab their attention with quality and innovative products, localized service and outstanding marketing."
And because many of its medical products are bought by the UK National Health Service, the price advantage that Chinese sellers can offer is not necessarily tempting. "Quality is by far the most important thing," said Yin.
Mindray bid to be a supplier to the NHS through a procurement procedure in 2008. "We were assessed as a business holistically, including our product quality, commercial qualification and after-sales service. We passed the test and have remained in their procurement system ever since. By now, our products can be seen in many major European teaching hospitals," said Yin.
Mindray's key advantage in Europe is not its price, but its product innovation, quality and localization, Yin said. Most hospitals have a procurement process whereby prices are not made known at first.
Eager to enhance its earning ability, it has also established a regional logistics center in the Netherlands to ensure prompt shipments and proper storage.
All of Mindray's products sold abroad have been certified by regulators in the European Union, and its products sold in North America have also received the US Food and Drug Administration's clearance.
One milestone for Mindray's global expansion was its $200 million acquisition of New Jersey-based Datascope's patient monitoring business in 2008, which turned the company into the third-largest player in the global patient monitoring device industry.
The R&D center in clinical research in Datascope's previous headquarters Mawah, New Jersey, became a valuable asset to Mindray. The deal also gave Mindray a direct sales force in Europe and North America, which was an improvement over the previous practice of selling through distributors.
It also acquired Zonare, a California-based maker of high-end ultrasound machines for $105 million in 2013. The deal was seen as helping it become a market leader in premium imaging products.
"It's difficult for any Chinese company, no matter how experienced or smart, to break into developed markets."