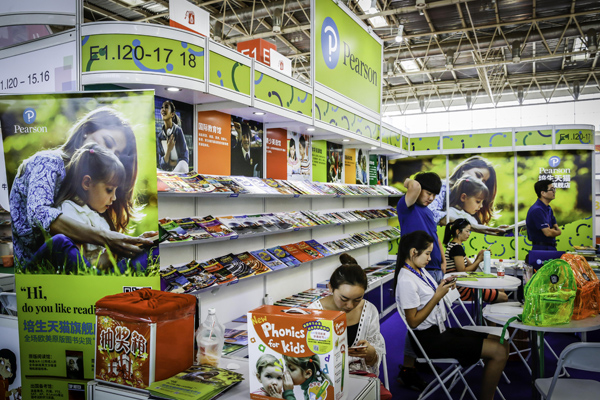 The booth of Pearson at the 23rd Beijing International Book Expo on Aug 26, 2016. [Photo by Zhan Min/For China Daily]
Pearson Plc, the world's largest education company, reported a 7 percent decline in comparable sales for the first nine months of the year amid a slowdown in the key US market for textbooks. The stock dropped.
Sales excluding the effect of currencies and one-time items declined because of falling testing revenue in the US and the UK and weaker demand for higher-education courseware in North America, the London-based company said in a statement on Oct 17. Revenue in North America shrank 9 percent.
"Sales in our largest business, US higher education, are down due to cautious buying patterns from key retailers," Pearson Chief Executive Officer John Fallon said on a conference call with reporters. "This is an industrywide issue" and is expected to be a temporary phenomenon over the next six to nine months, Fallon said.
Pearson, which gets almost all its profit from education after selling the Financial Times and its half of the Economist Group last year, is facing sluggish demand for textbooks, dwindling US college enrollment and declines in its US testing business. The company announced a reorganization in January that includes 4,000 job cuts and higher investment in digital services and emerging markets.
Pearson said trends in US higher education started improving in September, and the improvement has continued into October. The company reiterated its 2016 and 2018 earnings targets and said that if current exchange rates persist until the end of the year, it may boost its per-share guidance.
Still, the company is contending with a shift to online learning, causing analyst concerns that its problems aren't temporary.
"While earnings guidance has been reiterated, the continued weakness in top-line trends increasingly make Pearson look like a newspaper-style story, prone to a de-rating," Ian Whittaker, an analyst at Liberum Capital Ltd in London, said in a research note.
A competitor of Pearson in US higher-education courseware, John Wiley & Sons Inc, warned last month that sales had been weaker than anticipated in July, an important period leading up to the start of the school year. Other rivals have also indicated that August wasn't as strong as expected for the segment, which accounts for almost 25 percent of revenue for Pearson, Exane BNP Paribas analysts led by Sami Kassab said in a note last month.
Pearson, which has 10 buy, seven hold and six sell recommendations from analysts, according to data compiled by Bloomberg, fell 22 percent in the third quarter, compared with a 4 percent gain in the Stoxx 600 media index.
BLOOMBERG