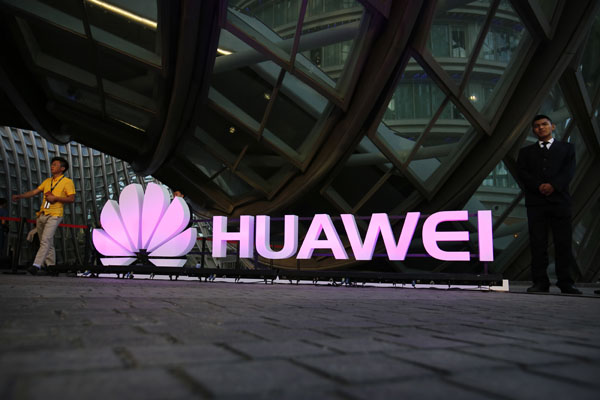 Huawei has gone from humble beginnings to becoming the world's largest telecom company. [MARK SCHIEFELBEIN/AP]
Books on leadership come out most months, promising to transform readers into the next Richard Branson of Virgin or Wang Jianlin of Dalian Wanda.
Like most of its genre Huawei: Leadership, Culture and Connectivity-which launched in the UK this week-may not offer a cheat sheet for aspiring moguls, but it does untangle one of the most unlikely success stories in Chinese business history.
Huawei went from humble beginnings as a small equipment trading company in an emerging market to the largest telecom company in the world.
It has forged ahead at a rapid rate in recent years, going from $27.6 billion in revenue in 2010 to $60.8 billion last year.
And it has done so with an uncommon management and ownership structure, operating with a rotating CEO and with 98.6 percent of the company owned by employees. Huawei has achieved success on the international stage to a degree rarely enjoyed by a Chinese business and is the only one among 91 Chinese mainland firms in the Fortune Global 500 list to earn more revenue abroad than in China.
The book is backed by Huawei, and its co-authors argue that openness, integration and collaboration with UK businesses played an integral part in its success.
Huawei has made significant inroads and investment since entering the British market in the early 2000s with 100 employees. Today, it has 15 UK offices and more than 1,100 UK employees.
It has partnered with major domestic providers British Telecom, Vodafone, TalkTalk and EE. Market analyst Oxford Economics reported last year that Huawei is on track to meet a five-year, 1.3 billion pound investment plan agreed between founder Ren Zhengfei and then-UK prime minister David Cameron in 2012.
"Huawei is among the most open companies in the world and it values employees of various backgrounds," co-author and Huawei adviser Tian Tao said in an interview with China Daily.
"British Telecom is the first major international company to embrace Huawei. It played a vital role in Huawei's globalization.
Contact the writers at angus@mail.chinadailyuk.com