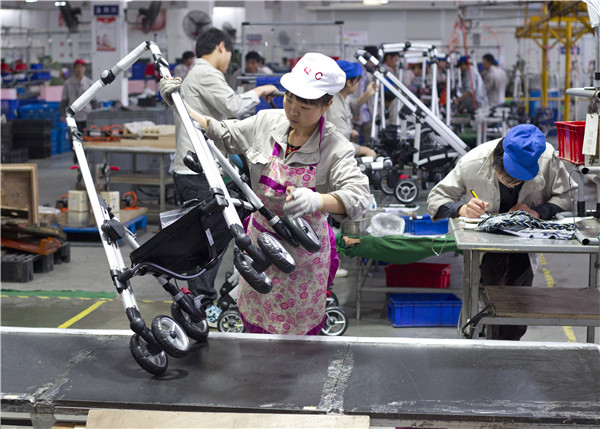 A workshop of Goodbaby Group in Kunshan, Jiangsu province. [Photo by Gao Erqiang/China Daily]
When Goodbaby Group, China's largest manufacturer and retailer of baby-care products, made its debut in the global fair for baby and toddler outfitting in Germany earlier this month, its products attracted a lot of attention, presenting stiff competition for some of the world's most famous brands.
Goodbaby, a Suzhou-based producer of buggies and safety seats for cars, said the success at the exhibition can be attributed to their global strategy of mergers and acquisition.
During the past couple of years, the company has acquired some production assets in Europe and North America.
In 2014, the Chinese company made its first acquisition of Cybex GmbH, a German producer of premium car seats. The deal gave Goodbaby wide exposure in Europe, where Cybex is a major brand, as well as entry into the high-end car-seat marketplace.
"We want to be on the cutting-edge of design and technology to provide the most convenient products for our consumers, so we can unveil a new lineup of products each year that represent creativity through acquisition and innovation," said Song Zhenghuan, chairman of Goodbaby Group.
During the same year, it bought the US company Evenflo Co Inc for $143 million. The latter makes a range of juvenile products, from car seats to feeding bottles sold through large retailers like Wal-Mart. The acquisition has enlarged its portfolio to include mid-priced safety car seats.
Goodbaby said it would be able to increase its share of the rapidly growing juvenile car seat market.
Yin Jie, an expert in brand management, said Goodbaby took a shortcut to gain resources in overseas markets by acquiring local companies.
"Normally, consumers in well-developed markets are very loyal to their local brands, making it hard to have major inroads into these markets, but acquisition is a good way to avoid direct competition and give the company an edge both in technology and local distribution networks," he said.
About 70 percent of Goodbaby's business is in overseas markets such as Japan, North America and Europe, with the rest in China.
Goodbaby is already the largest supplier of strollers in North America, Europe and China. But it wants to master design and manufacturing as well so it could stamp its name on baby-care products.