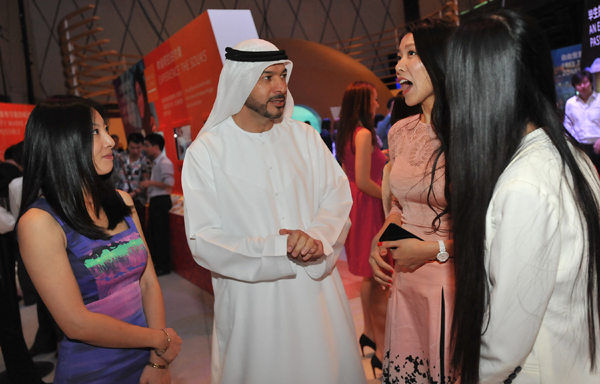 Dubai week introduced the country's culture, food and art to participants in Beijing. Photo provided to China Daily
DUBAI -- The Dubai Customs said on Saturday that China is Dubai's primary trading partner in the first half of 2016 with a bilateral trade worth $21.52 billion, Dubai Media Office reported.
India came in the second place with bilateral trade at $13.1 billion, followed by the United States with $11.71 billion.
China overtook India as Dubai's number one trade partner for the first time in 2014.
Saudi Arabia was Dubai's fourth biggest trading partner globally in the first half of 2016 and first in the Arab world, with bilateral exchange reaching $7.36 billion.
China-Dubai relations received a boost last month when the United Arab Emirates (UAE) said it will soon issue travel visas on arrival to Chinese citizens and when China started direct trading of its currency yuan with the UAE on Sept 26.
The half-year report stated that Dubai's non-oil foreign trade added up to $176.3 billion from January to June 2016.
It represented an increase of 3.52 percent year on year compared to $170.3 billion the Gulf Arab emirate achieved in non-oil foreign trade in the first six months of 2015.
In order to offset the impact of the general slowdown in world economy, lower commodity prices and the slump in oil prices, "Dubai has wisely restructured and broadened its sources of revenue while taking considerable measures to stimulate growth in the affected sectors," the report quoted DP World Group Chairman and CEO and Chairman of Ports, Customs and Free Zone Corporation, Sultan Ahmed bin Sulayem.
Imports had the lion's share at $109.26 billion, while exports and re-exports accounted for 20.16 billion dollars and $46.86 billion respectively.
The report added that Dubai saw a 17 percent upsurge in the total volume of traded goods in the first half of 2016, rising as high as 49 million tons of commodities from 41 million tons the same period last year.
Direct trade was the main component of Dubai's foreign trade in the first half of 2016, standing at $115.4 billion.
Less than three percent of Dubai's economy is based on oil, as 90 percent of the UAE's oil is based in Abu Dhabi, the UAE capital.
The Gulf state now has 4,200 Chinese firms, 249 trade agencies and 5,451 Chinese trade brands, according to China Foreign Trade Center.