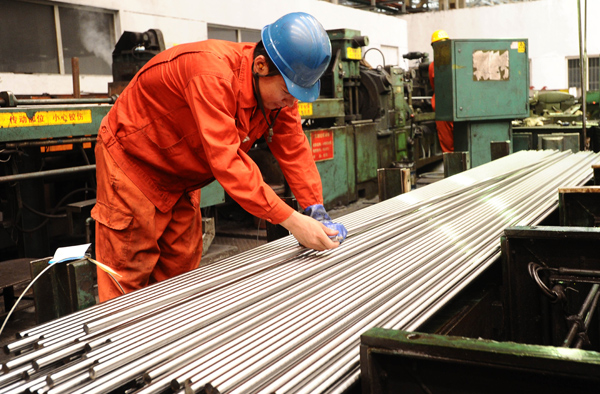 A worker at a steel factory in Dalian, Northeast China's Liaoning province, August 10, 2016. [Photo/VCG]
BEIJING -- Chinese steel will not impact the European market due to its low market share, a Chinese government official said on Saturday after the EU imposed anti-dumping duties on imports of two Chinese steel products.
An unnamed official of the Ministry of Commerce said in a statement that China's products account for less than 5 percent of the EU steel market and the area's steel woes stem from flagging economic conditions, not trade.
"It is not a right strategy for the EU to adopt protectionism and impede competition," the official said.
The European Commission announced on Friday that it had decided to impose anti-dumping duties on imports of heavy plates and hot-rolled steel from China for six months, with tax rates up to 73.7 percent.
"China is highly concerned about the trade remedy practices," the official said, noting the EU's repeated measures have harmed Chinese companies.
The official said measures should be carried out in a fair and transparent manner and asked the EU to guarantee the rights of Chinese companies.
China has always insisted that nations should be cautious and restrained in using such measures, and has always promoted exchange and cooperation to solve friction, the official said.
Confronted with sluggish global economic growth, G20 leaders reiterated their stance to oppose trade protectionism at the Hangzhou summit last month.