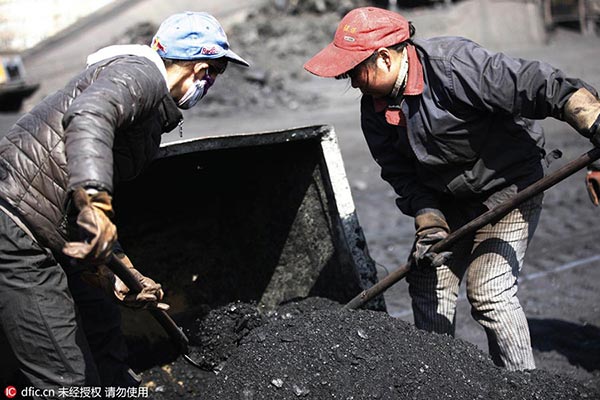 Female coal miners work at the Huaibei mine, East China's Anhui province, March 24, 2016. [Photo/IC]
BEIJING - China's top economic planner said Friday that the country's coal price will stabilize and shore up coal production.
The National Development and Reform Commission (NDRC) said, in an online statement, that new coal supplies helped major thermal power plants increase their inventory by some 5.28 million tons in September.
On Sept 23 and Sept 27, two ministerial meetings on winter coal supply agreed to release certainly advanced production capacity to ensure supply.
It also decided to relax a limit on the number of production days for efficient coal producers, with the former 260-day cap increased to a maximum of 330 days. The original limit, had it been followed, would have cut production by over 500 million tons in 2016.
The measures are aimed at preventing runaway coal prices and ensuring supply, but not at shooting down the price, said Deng Shun, a coal industry analyst with market information supplier ICIS.
NDRC's plans will alleviate the shortage of winter reserves to some extent, and the coal price in the fourth quarter is expected to rise, Deng said.
The Bohai-Rim Steam-Coal Price Index (BSPI), a government-backed gauge of spot coal price in north China's major coal ports, recorded 14 weeks of rises to reach 561 yuan ($84) per tonne Wednesday, up 51.2 percent from the beginning of the year.
At a press conference on Sept 23, an NDRC official attributed the price rise to increasing coal consumption, a crackdown on illegal production, as well as transport and logistical problems.
A rise in coal prices will trickle down and significantly affect the steel and concrete producers, Lin Boqiang, director of the Energy Economics Research Center at Xiamen University.
A relaxed production limit would dramatically increase coal availability and put the price on a more stable course, he said.