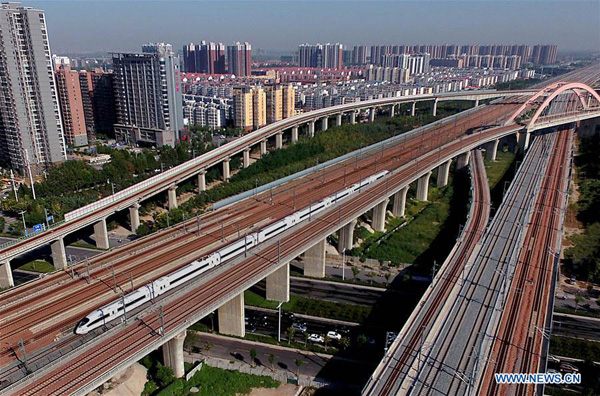 A bullet train runs in Zhengzhou, capital of Central China's Henan Province, Sept 1, 2016. [Photo/Xinhua]
The National Development and Reform Commission (NDRC), China's top economic regulator, has given green light to 10 major infrastructure projects with aggregate investment of 66 billion yuan ($9.89 billion) in September, according to a report by the Securities Daily on Thursday.
The third phase of Longdongbao International Airport construction in Guiyang, Southwest China's Guizhou province, totals 19.585 billion yuan, and the highway from Baoshan to Hushui in Southwest China's Yunnan province involves a total investment of 14.7 billion yuan.
Approved projects also include a 9.88 billion yuan railway project from Xingguo, East China's Jiangxi province, to Ninghua, Southeast China's Fujian province; a 9.61 billion yuan national highway project in Chun'an, East China's Zhejiang province; and a 4.13 billion yuan cross sea highway project in Shachengwan, Southeast China's Fujian province.
The NDRC has approved more than 1 trillion yuan of infrastructure projects in the first eight months this year, according to Li Kun, analyst with Ping'an Securities.
Amid week global economic recovery, investment plays a significant role in driving economic growth, he said, adding that the country's investment in railway is expected to gather speed in the second half.
In the first half of 2016, China has invested 264.6 billion yuan in railway infrastructure, meeting 43 percent of the annual target, which means it has to complete 345.4 billion yuan of investment in the second half, he added.
"Pro-growth fiscal policies and public-private partnership will help accelerate the development of the rail transportation industry," he said.