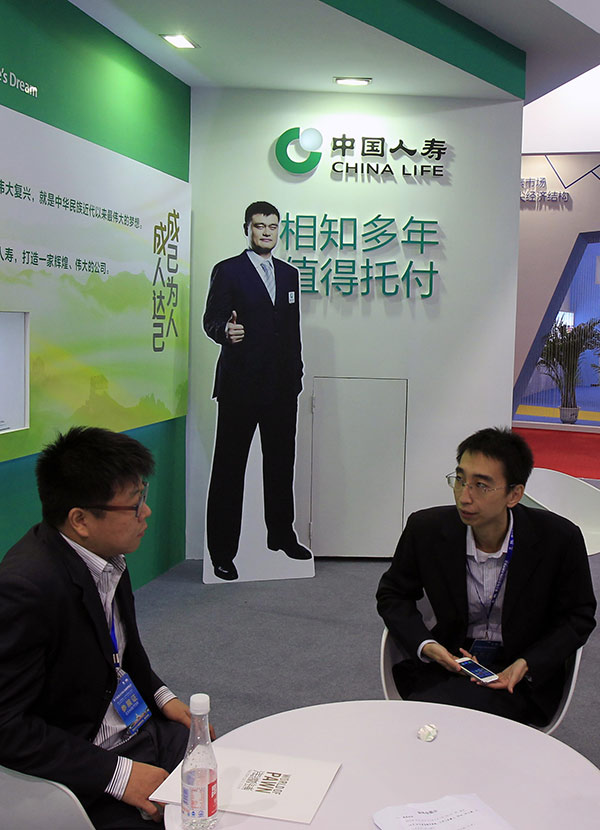 Employees of China Life Insurance Co chat at an international finance expo in Beijing.[Photo/Wang Jing, China Daily]
Chinese insurers are making overseas investments for steady returns and to prevent exchange rate risks, experts said.
Chinese outbound mergers and acquisitions hit a record 493 deals worth $134.3 billion in the first half, according to a PricewaterhouseCoopers report in August.
"The dramatic growth in outbound M& A deals is supported by the rise of alternative financial investors, such as the investment arms of insurers, large corporations and State-owned enterprises," said George Lu, PwC China transaction services partner.
Lu said Chinese companies including insurers sought advanced technology, know-how and brands. They looked favorably on low valuations of some overseas assets to make profits.
Steven Lam, life insurance analyst at Bloomberg Intelligence, said Chinese insurers may accelerate their overseas investments for exchange rate considerations.
Lam said their overseas investments remain far below the regulator's threshold of 15 percent of assets, meaning at least 1.8 trillion yuan ($272 billion) can be deployed, assuming only 2 percent of the industry's assets were invested abroad.
"Chinese investors have been favoring commercial properties in the US and in Europe for their stable returns and asset duration," said Lam. "But after Britain voted to leave the EU, China's insurance companies may slow their property investment in London's financial center."
Lam said Chinese investors may hold off investments in London and reassess prospects and valuations amid uncertainty in the labor market and depreciation of the pound sterling.
According to data compiled by Bloomberg Intelligence, large Chinese insurers invested about $2.4 billion in London real estate last year, compared with about $2.8 billion in the US, mainly in New York.
Wang Yao at international real estate consultancy company Savills said Chinese insurers dominated outbound real estate investments in the first quarter, accounting for 80 percent by value. Their proportion in the full year of 2015 was 60 percent.
"Because of encouraging policies and steady return of real estate investments, more and more insurance companies are going abroad," said Wang.
Chinese insurers will pay attention to asset safety, investment return, political stability, and the transparency of laws and regulations, he said.
Wang said the trend will continue as Chinese insurers' asset allocation in real estate sector is still small based on international practices.
Lam said Chinese insurers also seek their counterparts in Southeast Asia and fintech assets around the world.
China Life Insurance Co and Brookfield Property Partners announced in April that they jointly acquired Aldgate Tower in London for 346 million pounds ($452.3 million).
China's Anbang Insurance Group announced in April that it bought Allianz Life Insurance Korea and Allianz Global Investors Korea for more than $3 million.
A spokesman for Anbang said in March that the company has an ample overseas investment quota for this year.