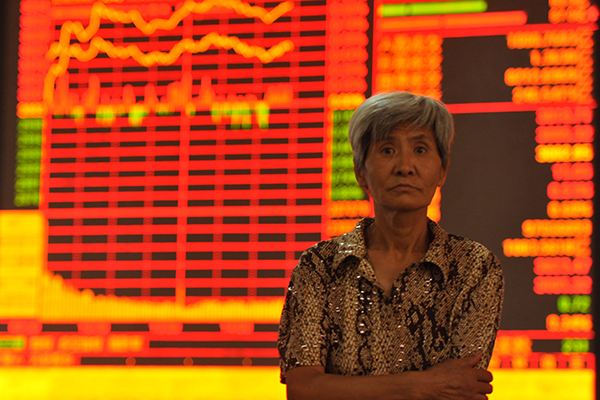 An investor anxiously waits for a positive tick in market movement at a Fuyang brokerage in Anhui province. [Photo/China Daily]
Uncertainty over policy deepens the wait-and-watch stance; directionless market moves sideways
The Chinese stock market will likely continue to experience muted trading this week/month as investors have adopted a wait-and-see attitude and are awaiting further policy clarification from the government.
The hitherto wild A-share market saw extremely light turnover last week. Daily volatility reached the lowest level in 14 years. The benchmark Shanghai Composite Index fell 3 percent over the past month.
Analysts such as Wang Yi of Great Wall Securities Co Ltd said lower levels of volatility and turnover reflect subdued trading appetite of investors due to persistent uncertainty over policy.
Wang anticipates further consolidation in the A-share market, which will likely keep it sideways for the rest of the year, more so because it is drifting for want of a clear direction.
Xiao Shijun, an analyst at Guodu Securities Co Ltd, said, "The upcoming National Day holiday in October will likely further conduce to more cautious sentiment as investors tend to reduce their positions ahead of major holidays to avoid risks."
It is also feared that the country's red-hot property markets in big cities may drain capital from the equity markets.
In contrast to the cooling and quiet stock market, the property market in China has shown signs of overheating. The value of home sales in the 70 cities tracked by the government jumped 33 percent last month from a year earlier, the fastest pace in four months, according to Bloomberg calculations based on government data. Average new-home prices in the 70 cities rose by 1.2 percent last month from July, the biggest gain since 2010.
Meanwhile, the further liberalization of the Chinese capital market including the upcoming launch of the Shenzhen-Hong Kong Stock Connect could be another factor that would prompt more capital outflows from the mainland's stock market, analysts said.
The trading link between Shenzhen and Hong Kong will likely be launched in November at the earliest. Earlier this month, the mainland's insurance regulator also allowed insurers to invest in Hong Kong shares through the Shanghai-Hong Kong trading link.
Southbound fund flow-buying of shares in Hong Kong by mainland investors-should be sustainable due to wider participation of institutional investors, persistent depreciation pressure on the yuan and the dearth of assets in the onshore market, said Lu Wenjie, an H-share strategist at UBS Securities.
Lu said the mainland's financial regulators have appeared to be more confident in managing capital outflows.
"We believe policymakers may encourage a reasonable pace of outbound investment in the next few quarters to help contain the domestic asset bubble, especially the overheating property market," he said.