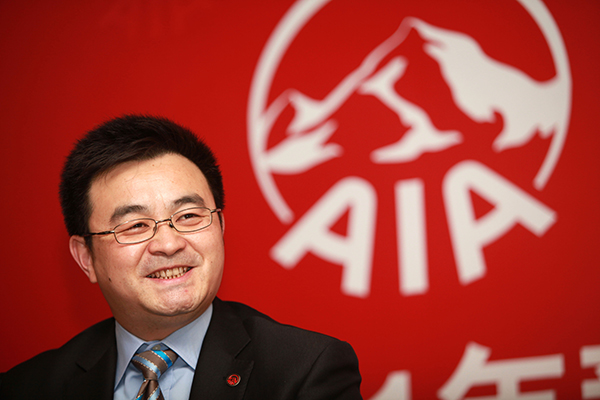 John Cai, chief executive officer of AIA China. [Photo provided to China Daily]
Middle class represents a big opportunity that AIA China, led by John Cai, will exploit by upping investments
AIA Group Ltd, the world's second-largest life insurer by market value, will increase investment in China as it sees a long-term opportunity in the growing demand for protection from the country's swelling middle-class consumers, the insurer's top country executive said.
In a recent interview with China Daily, John Cai, chief executive officer of AIA China, said the country's long-term business prospects are bright despite the current choppy stock and currency markets and slower economic growth, which are squeezing the industry's profits.
"The potential of the Chinese consumers and the burgeoning middle class as well as their rising income will mean greater demand for protection and insurance products," Cai said. "We will increase the investment in China and we have prepared enough capital for our expansion in China and the training of local employees."
AIA's optimism stems from the expectation that overall value of insurance premiums in China will reach 5 trillion yuan ($750 billion) by 2020. Also, China is poised to surpass Japan this year to be the world's second-largest insurance market.
Cai said AIA China will continue to hire insurance agents whose number more than doubled to 30,000 in the past five years.
Riding the surging demand for life insurance products in China, AIA's new business value, a measure of expected profit from new policies, rose 37 percent on a constant exchange rate basis to $1.26 billion in the first half of this year.
New business value in Hong Kong soared by 60 percent to $537 million while the new business value in the Chinese mainland jumped by 56 percent to $278 million, according to the insurer's financial report.
Overall, its operating profit rose by 14 percent in the first half while net profit, which includes on-paper losses from equity investments, declined by 2 percent due to volatility in the stock and currency markets.
"The industry's declining profit is mainly due to the weak markets. But in the long run, the demand will continue to grow and the industry still has very exciting prospects," Cai said.
Cai said that soaring Hong Kong sales reinforced AIA China's determination to provide tailor-made insurance products and better service to customers on the mainland.
The Hong Kong-based insurer's mainland unit head said that one of the challenges is how to improve and optimize the company's investment portfolio in an environment of low interest rates and slower economic growth.
The intense price competition and the shortage of investable assets have prompted many insurers in China to invest heavily in high-risk assets such as high-yield bonds and small-cap stocks.
To fund such risky investments, insurers tend to sell to individual consumers and corporate clients high-yield universal life products that usually promise a return as high as 6 to 8 percent.
According to official data, industry premiums from universal life products grew dramatically by 147.3 percent in the first half of this year. The surge has caught the regulator's attention. The China Insurance Regulatory Commission has tightened regulations on life insurance products to curb speculative activities.
"The shortage of investable assets may prompt some firms to engage in risky and speculative investments. But asset quality is crucial and the risk management should always be the priority of an insurance firm," Cai said.
He also noted that adapting to the new capital requirement under "Solvency II" regime, the risk-oriented regulatory scheme implemented since this year, is another challenge for insurers.
Cai has more than 20 years' experience in the insurance industry; he has been AIA's China CEO since 2009.
He attended the B20 Summit in Hangzhou earlier this month, and said he was encouraged by Chinese President Xi Jinping's message that the country will continue to open up its markets to foreign companies.