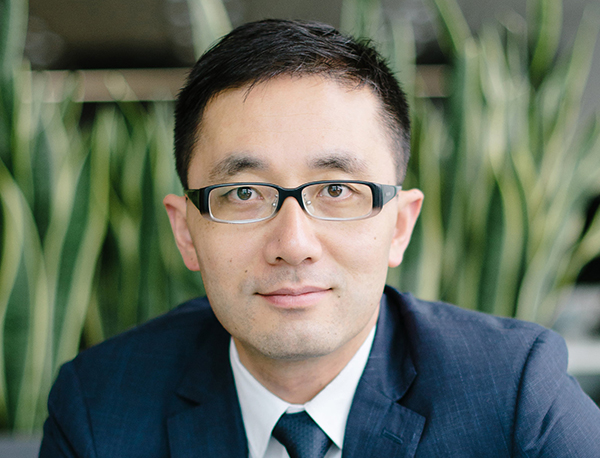 Zou Jianglei, branch manager, ABN AMRO Bank NV, Shanghai Branch. [Photo provided to China Daily]
Led by Zou Jianglei, ABN AMRO's Shanghai branch is intent on helping Chinese firms to expand globally
At the heart of Lujiazui, Shanghai's financial hub overlooking the Huangpu, the China branch of Dutch banking giant ABN AMRO has seen much action of late. And Zou Jianglei, 41 and already the branch manager, has been witness to the transformation of the space from a concrete-and-metal skeleton to corporate sophistication.
The office-it is marked by expensive glass, shiny wood, gleaming metal, bright paint and the polished elegance of bamboo-patterned floors with elements of decks and boards-reminds visitors of the Dutch tradition of voyages, of European explorers setting sail in well-stocked vessels for destinations far and away.
Zou is one of the youngest branch managers of foreign banks in Shanghai. In the past few years, he has acted like a captain of a ship out on a voyage. He rebuilt the ABN AMRO brand and reestablished the bank's footprint in China.
He expanded his crew from just two at what was hitherto a Representative Office to 20 now at the newly established full-fledged branch, of which he has been the skipper since January.
One of the FAQs that Zou fields is this: how is the current ABN AMRO different from its previous avatar? "Today's ABN AMRO is different in terms of structure, corporate governance, and in many other aspects-it is a new bank," he said.
But at the same time, "we're proud of our heritage", of "our client networks" that go back a long, long way. "As a financial services provider, we are in close contact with our clients. We always want to stay relevant to the China market."
That approach has helped the Representative Office, which started in 2012, to grow from just liaising with counterparts, prospective customers and regulators to a full-fledged branch on Jan 1. Ever since, the business has "grown steadily" and the handful of core clients are mainly in the commodities sector.
That marks a long way from the time ABN AMRO entered China as a financial services brand in 1903. Back then, it was the Netherlands Trading Society which later became ABN AMRO.
The China business of the old version of ABN AMRO was taken over by Royal Bank of Scotland in 2007. The new ABN AMRO was established in July 2010, following the merger of the Dutch business of ABN AMRO and Fortis Netherlands.
Gerrit Zalm, chairman of the managing board, said at the Shanghai branch opening that upgrading the bank's footprint in Shanghai is a key step towards international growth.
Maureen Derooij, country executive, Greater China, said at the same event, "With the new Shanghai branch, we can better serve our clients in energy, commodities and transportation (ECT) industries."
She also underlined China's importance as the leading global consumer of energy and producer of commodities.
Zou said he is "cautiously optimistic" about driving ABN AMRO's growth in the Chinese mainland. The optimism comes from the bank's confidence in the long-term growth prospects of China, ECT industries to which it provides relevant financing solutions, and Dutch clients. These clients are among the top players in their respective sectors.
"But at the same time, we are cautious, because risk management is key. We would like to grow in a stable and steady manner, maintaining a moderate risk profile. We don't like to grow for the sake of growing or do everything all over the world. We don't want to make mistakes. For foreign banks in China, one mistake could cost years of profit," said Zou.
That is why, ABN AMRO's Shanghai branch has invested substantially on technology, to ensure its cross-border business stays smooth and efficient. The core deal system links the branch's operations with the bank's head office and other international entities. The risk management system monitors credit risk, market risk and liquidity risk on a daily basis.
The Shanghai branch works closely with other branches in Asia, including those in Hong Kong and Singapore, and ABN AMRO's global network to provide financing solutions to clients on a global basis. It will support China clients in their global expansion.
"We'll provide quality service to our clients to help them meet their growth targets. Talking to our clients and learning about their fascinating success stories gives me a lot of confidence," said Zou.
He said he believes in "cooperative competition"-learning about peers, their business, sharing knowledge and exchanging information with them.
"Every foreign bank in China has specific expertise, and every client has its own specific demands. Sometimes, in order to serve in the best way, we work closely with peer banks with similar or complimentary knowledge," said Zou.
"I do believe that cooperative competition will be the way for financing in the future, creating a virtuous circle."
Zou is not content with a PhD in applied economics. For him, lifelong learning is a must. This trait also helps him keep the bank relevant to the China market.
Zou sees great opportunities in the increasing number of Chinese enterprises that are going global, and in the renminbi internationalization, given that a new foreign bank branch can start renminbi-based business after its first year of operation.
"We want to be ready and fully prepared so we can start as soon as we get the green light," said Zou.