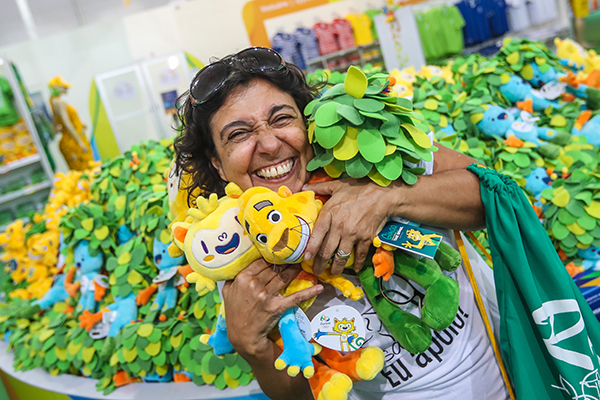 A customer cheers at a Rio Olympic franchise store after she bought plush toys Vinicius and Tom, mascots of the Rio 2016 Olympic Games. [Photo/China Daily]
The Rio 2016 Olympic Games are history, but Chinese companies have left a mark on them that will shine for a long time to come.
The numerous mascots, uniforms, security apparatus and telecommunications equipment were all "Made in China".
The vivid mascots of the Olympic Games, Vinicius and Tom, became hot commodities after they were put on sale.
These mascots were, and are still, available in various sizes as plushies, which rapidly became favorites in shopping baskets in Brazil and around the world.
Behind these is a Chinese company, Honav, which is an official franchise firm of the International Olympic Committee.
Chen Shaoshu, president of Honav, said, "Honav became associated with the Olympics a long time ago, back in the 1996 Atlanta Olympic Games. We were manufacturers for Sydney 2000 and Athens 2004 before being signed up for Beijing 2008 as an official franchise company."
In Rio, Chen was preoccupied by the huge boom in demand for his products, as "sales were not good prior to the Games".
Carlos Nuzman, president of the Rio 2016 Olympic Games, has been very satisfied with Honav, calling it a company known for good quality, creative design and the sustainable development of its products.
Chen said that Honav designed over 1,110 products for Rio 2016, including over 5 million units. However, he explained that "tourists, spectators and athletes bought products with a speed we had not imagined. Certain products were already on limited sales every day".
Inside the main entrance of the Rio 2016 headquarters, a banner proudly displayed the Olympic sponsors, including 361-degrees and Gree.
361-degrees had supplied uniforms for the Rio 2016 Organizing Committee, as well as for a number of delegations, including Greece and South Africa. Gree, on the other hand, installed all the air conditioning in venues.
The 361 sports clothing brand became an official supplier for Rio 2016 in October 2013, with all volunteers, officials and employees of the Olympic and Paralympic Games wearing its gear.
Gree celebrated its entry into the Olympic Family in July 2016, with its air conditioners being set up in venues, the Olympic Village, the Media Village, official hotels and airports.
What's more, some official equipment for judo, taekwondo, wrestling, athletics and cycling events was provided by TaiShan Sports.
Bian Zhiliang, president of TaiShan Sports, explained that the standard for Olympic sports equipment used to always be according to European rules. "This time, equipment for the likes of judo, taekwondo and wrestling were of a Chinese standard."
Chinese company DHS provided the Olympic table tennis tables while Tinsue provided the floors for this event, showing China's expertise in the sport.
Close to the famous Maracana Stadium in Rio, Chen Yongjian, director of Nuctec in Brazil, was always ready to respond to any need for maintenance or repairs on any of his security equipment.
Chinese firm Nuctec has provided all security equipment, including X-ray and body scanners, at the entrances of Olympic zones, such as Maracana, Deodoro, Barra da Tijuca and Copacabana.
"During the 2014 soccer World Cup, the quality of Nuctec equipment was recognized by Brazil, which decided to continue using our products for the Olympics," Chen said.
Besides Nuctec, China's Dahuatech won a tender to supply over 80 percent of all security cameras in stadiums. Dahuatech ended up providing close to 2,000 high-definition cameras, helping security personnel with their inspections.