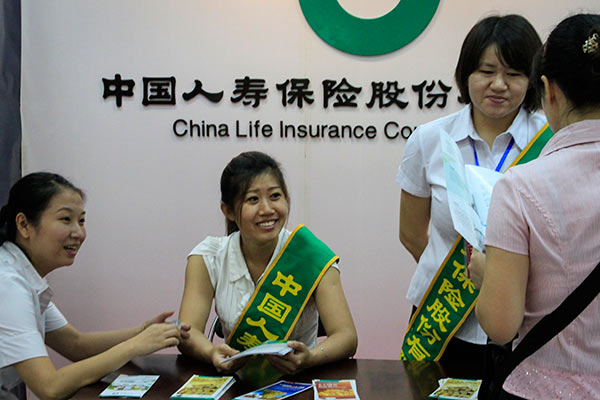 A branch of China Life Insurance Co Ltd in Haikou, capital of Hainan province. Shi Yan / for China Daily

Low insurance investment returns pushing group to strategy changes
China Life Insurance Co Ltd will boost its overseas investment proportion by widening the investment scope of properties and increasing stake investment in unlisted companies, the insurer's top management said on Friday.
The move, according to Zhao Lijun, vice-president of China Life, aims to improve the insurer's investment return amid a sluggish domestic stock market and low interest rate environment.
The insurer's first-half profit slumped 67 percent as the stock-market decline dragged down investment returns and reserves rose. The company's overall investment return stood at 4.36 percent at the end of June, down 9.34 percent from the same period of last year, it said in a statement to the Shanghai Stock Exchange on Thursday.
The benchmark Shanghai Composite Index tumbled 17 percent in the first half, amid an economic slowdown, hurting the value of Chinese insurers' stock holdings and causing a slump in their combined profits.
"It is not likely that there will be an impressive improvement in the investment return in the following six months, based on our forecast of the capital market. We will increase the holdings of fixed-income products and overseas investments," said Zhao.
The country's biggest life insurer's overseas investment has reached $7.6 billion, which is 2 percent of the insurer's total assets. The existing ceiling set by the industry regulator is 15 percent, indicating the company still has much leeway in this regard. Most of China Life's overseas investments, around 9 billion yuan ($1.35 billion), was put into the property sector.
"We will expand our investment from office buildings in key gateway cities with a steady rent income to logistics, retail and hotels," said Zhao.
China Life has taken a sizable but undisclosed stake in a landmark New York office block this year, in a deal worth $1.65 billion. The insurer is believed to be the largest investor in 1285 Sixth Avenue in Manhattan, in a transaction led by US developer RXR Realty LLC, according to media reports.
According to Grant Ji, executive director of capital markets for northern China at CBRE Group, more life insurance companies are interested in investing in foreign real estate to earn stable rental yields and to diversify their investment portfolio.
"It is a natural choice for them, given the sharp volatility of the domestic A-share market and the depreciation pressure on the yuan," said Ji.
Other major insurers such as New China Life Insurance Co and China Pacific Insurance (Group) Co, which are due to report interim results later this month, have forecast profit declines larger than 40 percent. Ping An Insurance (Group) Co, which is more diversified in its business portfolio, last week reported an 18 percent increase in net income for the period, partly due to rising earnings from its banking arm.