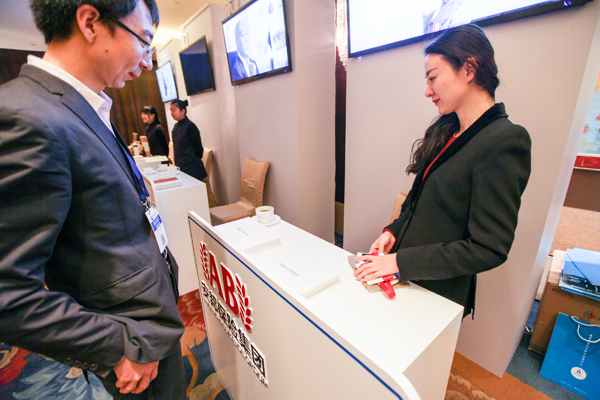 An Anbang Insurance Group Co stand at an industry fair in Beijing. WANG GOUDAN/FOR CHINA DAILY
Insurance group asks for proposals on 2017 initial public offering by the end of the week
Anbang Insurance Group Co, the Chinese owner of New York's Waldorf Astoria hotel, has asked banks to pitch for a role in a planned Hong Kong initial public offering next year, according to sources who did not want to be identified.
The Beijing-based insurance giant asked investment banks to submit proposals by the end of this week, said one source.
The listing may include Anbang's domestic life-insurance operations as well as many of its overseas businesses, two other sources said.
The proposed listing would be an important step forward for Anbang's transparency, shedding some light on the insurer's ownership structure while also providing an offshore war chest to fund further expansion.
Anbang has been the most active overseas dealmaker among Chinese insurers, announcing at least $13.5 billion of acquisitions over the past five years.
A representative for Anbang said he could not immediately comment.
Anbang was leading an investor group earlier this year that abruptly pulled a $14 billion takeover offer for Starwood Hotels & Resorts Worldwide Inc, clearing the way for an acquisition by Marriott International Inc.
The Chinese company agreed in November to buy US insurer Fidelity & Guaranty Life for $1.6 billion.
This year it reached a deal to purchase Strategic Hotels & Resorts Inc from Blackstone Group LP for about $6.5 billion.