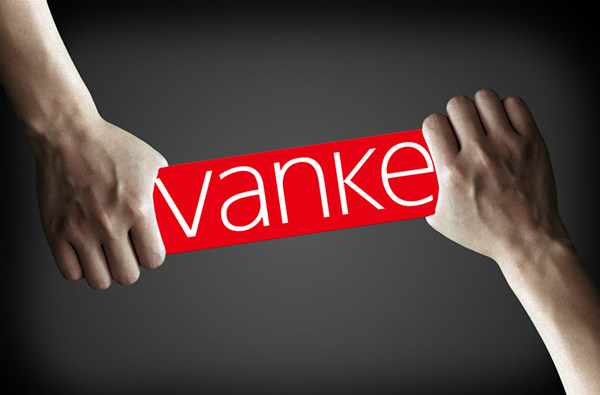 Money manager dumps Vanke as fight for control heats up. [Photo/VCG]
As one of the world's biggest investors in developing countries, Aberdeen Asset Management Plc is no stranger to market drama. But, even this hardened money manager can't stomach the frenetic battle for control at China's biggest developer.
The $403 billion investment firm sold all its Shenzhen-listed shares of China Vanke Co after a six-month trading halt was lifted on July 4, said Frank Tian, who helps manage Aberdeen funds from the firm's Hong Kong office. He cited uncertainty over the developer's future amid a protracted ownership struggle involving at least three strategic shareholders.
Aberdeen's decision to sell is hardly unique as investors struggle to make sense of China's most high-profile corporate battle, a tangled web of competing interests, inscrutable motives and no clear endgame. Investment managers and advisers have cut their position in Vanke's Shenzhen-traded stock to 7.2 percent of publicly reported holdings from 19 percent in December, according to data compiled by Bloomberg, even as corporate investors including Evergrande Group built up stakes.
"We see lots of uncertainties and it didn't make sense to keep holding onto it," Tian said.
The fight for board control is "definitely an issue for holding stock because it can take so many twists and turns, as we have seen".
Aberdeen's funds owned a combined 11.36 million Shenzhen-traded shares of Vanke, or 0.12 percent of the stock outstanding, when trading was halted in December, according to data compiled by Bloomberg. The money manager has also reduced its holdings of Vanke's Hong Kong-listed shares in the past month, Tian said.
The mainland securities trade at a 22 percent premium to their counterparts in Hong Kong.
A Vanke public relations manager didn't reply to an inquiry for comment.
Vanke's battle for control spilled into the public domain last year when Baoneng Group, an obscure Chinese conglomerate, emerged as the developer's biggest shareholder.
Bloomberg