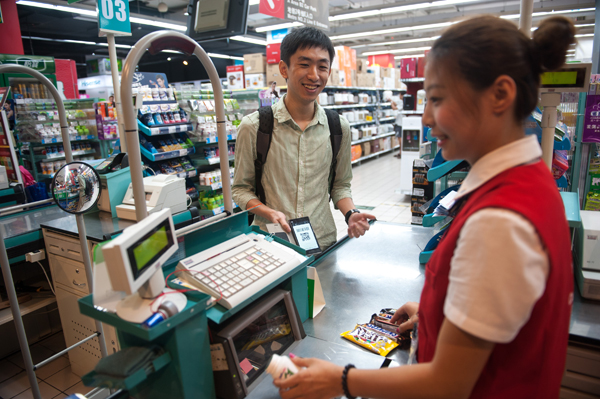 A Carrefour outlet in Shenzhen, Guangdong province. PROVIDED TO CHINA DAILY
French retailer Carrefour SA continues to shift its focus from its traditional hypermarket business to smaller convenience store format-planning to open 40 to 50 in Shanghai this year.
The company said it has seen encouraging sales trends in China thanks to fresh products. The transformation of its business models in the country "has continued and is well advanced", according to the company's e-mail reply to China Daily.
"Any new strategy development needs time to take effect and we are happy to see its first results," said the retailer.
The group posted sales of 40.6 billion euros ($45.2 billion) in the first half of 2016.
In China, its total sales, at 2.71 billion euros, were down 12.7 percent.
"In Asia, recurring operating income was affected by the transformation of our model in China in a context marked by the rapid evolution of consumer expectations," according to its half-year report.
"We wish to go ahead with hypermarket expansion, especially in the western and central parts of China," according to the Carrefour replay.
In addition to the 14 Carrefour Easy stores, the firm will open an additional 40 to 50 convenience stores in Shanghai by end of 2016, it said.
Meanwhile, the retailer is launching online operations to Chengdu, capital of Sichuan province, after it has already done so in Beijing and Shanghai.
Carrefour has six modern logistics centers in Kunshan of Jiangsu, Chengdu, Wuhan in Hubei, Beijing, Tianjin and two centers in Shenyang of Liaoning and Dongguan in Guangdong.
According to Kantar Worldpanel, the top 72 hypermarkets in China as a whole experienced sales drop of 0.2 percent in 2015 and Carrefour continued to lose market shares over the past 12 months.
The hypermarket store closures-estimated at 30 in the past three years-can be attributed to the changing consumers purchasing behaviors, said Jason Yu, general manager of Kantar Worldpanel China.