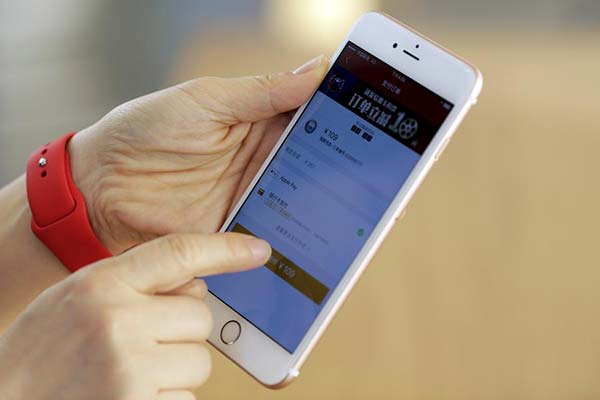 An employee uses an Apple iPhone to demonstrate to reporters how to pay using the Apple Pay service at an Apple store in Beijing, Feb 17, 2016. [Photo/Agencies]
China will soon kick off the second round of awarding licenses for private banks. Five private banks had opened for business in 2015.
Some of the aspirants said if they receive the banking license, they would concentrate on providing financial services to technology companies.
Regulators have completed their feasibility study for setting up a private bank in Fujian, a province on the southeast coast of China, according to the China Banking Regulatory Commission's Fujian Office.
Campus placement ads posted earlier this year by Fujian Huatong Bank, which is still taking shape, shows it was promoted by 10 Fujian-based leading companies across various sectors, including retail, manufacturing and real estate.
With a registered capital of 3 billion yuan ($450 million), the bank will position itself as a financial technology company and seek to build the core business framework around financial technology, innovative payment solutions and supply chain finance. With emphasis on financial inclusion, it will mainly provide online financial services, supplemented by offline services.
Its promoters include three major names: Fujian Eversun Holdings Co Ltd, a group that runs new nylon material, petrochemical, real estate and finance businesses; Yango Holdings Group, a company that is engaged in real estate, international trade, finance, education and healthcare businesses; and Yonghui Superstores Co Ltd, a supermarket operator.
China has been steadily promoting the entry of private capital into the banking sector through multiple channels, such as allowing private companies to initiate the establishment of privately owned banks.
Twelve private banks are half way through the process of obtaining the necessary approvals. The regulator's decision is awaited.
Shanghai already has a private bank, its first, but is ready for another in the city's Zhangjiang Hi-tech Industrial Development Zone.
Cao Zhenquan, executive deputy director of the administrative committee of the development zone, said promoters of Zhangjiang Bank plan to submit application-related documents to the CBRC any time now.
It wants to focus on financial services for small and medium-sized technology companies in the region and popularize business models like the "investment-loan linkage" mechanism.
Under the mechanism, a commercial bank will forge strategic cooperation agreements with investment institutions that invest in qualified technology companies. The bank will then extend loans to such tech companies.
According to the initial plan, Zhangjiang Bank will set up a director-level committee to develop technology-related financial products and a department to serve innovative talents and entrepreneurs.
Many other cities have also expressed great interest in private banks.
Xiao Ying, deputy director-general of the CBRC's Beijing Office, said in June, "Regulators are steadily pushing forward ... a private bank in Zhongguancun, a technology hub in Beijing. More than 10 private companies have been initially confirmed as sponsors of the bank."