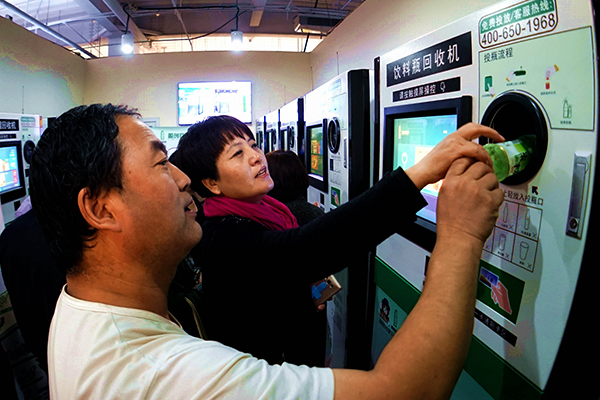 Beijing residents use an automatic recycling machine for plastic bottles in a supermarket in October. [Photo/Xinhua]
Beijing's green industries, particularly those focused on recycling and waste processing, could be worth 250 billion yuan ($37.5 billion) by 2020, according to a municipal official.
Zhang Guanglian, deputy director of Beijing Municipal Science and Technology Commission, said the capital intends to employ a number of technologies by the end of the 13th Five-Year Plan Period (2016-20), from wastewater management to plastic recycling.
"Beijing has laid out a plan to develop cutting-edge technologies for environmental protection, such as processing water and solid waste, to fuel growth in related industries," he said.
"Such technological innovation will fuel companies to reach their goals."
By next year, there will be 20 major innovation projects, according to the capital's Action Plan on Technological Innovation (2014-17), some of which will help improve the quality of the water discharged from wastewater recycling plants.
One such project is an underground network utilizing more than 1,200 kilometers of pipes that distribute around 1.4 billion cubic meters of water from Danjiangkou Reservoir to benefit around 11 million residents, according to the commission.
Automatic recycling
Others projects have helped make it easier for residents to recycle household items such as plastic bottles, electronics and clothes.
Automatic recycling machines for plastic bottles began to appear in Beijing in 2012, allowing users to deposit empty bottles and get paid directly through their smartphones. These have encouraged more people to get involved with environmental protection efforts, according to Liu Xuesong, deputy manager of the Beijing-based Yingchuang Recycling Co and inventor of the machines.
Since their introduction, the capital has installed more than 3,500 of the machines and collected at least 3,000 metric tons of plastic bottles - equal to cutting 22.5 million metric tons of carbon dioxide emissions, said Liu.
"And by the end of 2016, the number of machines in Beijing will increase to 6,000," she said.
The automatic recycling machines, which also record statistics and alert operators when they are nearly full, have now been sold to 15 countries and regions worldwide, including the United States, Mexico and Brazil.
To further Yingchuang Recycling Co's research, the municipal commission provided 3 million yuan in financial support, said Liu, adding that such support, coupled with the increasing awareness among the public about environmental protection, promises a bright future for the capital's environmental industries.