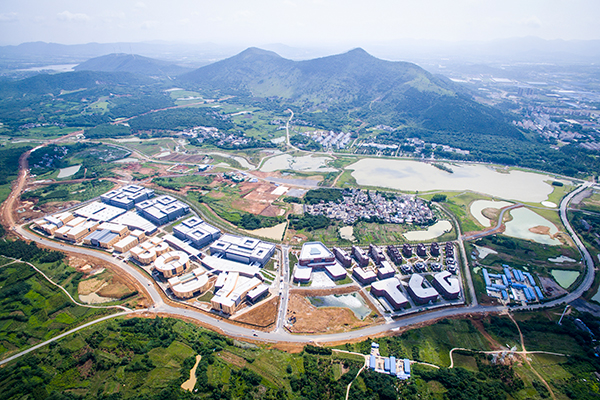 A bird's-eye view of the world's largest biotech drug production base in Hefei, Anhui province. The facility is shaped in the form of antibody ATCG. [Photo provided to China Daily]
Beijing-based Sinobioway Group Co Ltd, a major biotech company in China, is building the world's largest biotech drug production base at the Bantang township in Hefei, capital of Anhui province in East China.
The facility, shaped in the form of antibody ATCG and to be called the Bantang Bioeconomy Experimental Zone, will have 100 production lines to be completed in 10 to 15 years. The first five lines will be completed by the end of this year.
Work on another 10 will also start later this year, said Cao Wenbo, president of Anhui Sinobioway Bioeconomy Group, a subsidiary of Sinobioway Group.
The zone covers an area of 31 sq km. A 400,000-sq-meter plant is almost ready; the next two phases will take up 600,000 sq m.
Cao said infrastructure excluding the production lines will see an investment of 1.5 billion yuan ($224.3 million), which is being provided by the Hefei government.
Wu Cunrong, Party chief of Hefei city, said: "We believe the biotech drug sector will see enormous growth opportunities in future, so we will surely support such companies."
The company, Cao said, will repay the money in five years "so that we can have more money for mergers and acquisitions. We have enough money to reach the goal."
There are dozens of funds to back the ambitious project, which is expected to cost billions of yuan, he said.
"Instead of starting from the R&D stage, Sinobioway is more interested in buying drug patents and firms at home and abroad. Biotech drug production has been very profitable. But starting everything from R&D will be too time-consuming and risky. You may spend years but get nothing."
He said buying patents and firms will bring the company high profits quickly. During the process, it will also develop its own drugs.
This business model has marked the collaboration between Sinobioway and BioAlta, a San Diego-based company focused on the development of Conditionally Active Biologic antibody therapeutics.
In 2015, the two companies forged a strategic collaboration for the development and commercialization of select CAB antibodies and other CAB-based therapeutics in China. "Production of all the drugs will be based in Hefei," said Cao.
BioAlta would receive more than $70 million in payments and investment from Sinobioway in a year, according to their agreement.