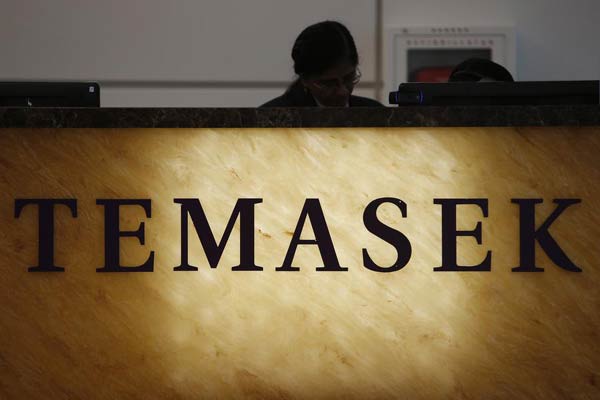 A receptionist stands behind a logo of state investor Temasek Holdings at their office in Singapore July 8, 2014. [Photo/Agencies]
SINGAPORE - Singapore-based investment company Temasek on Thursday announced its performance for the financial year ending March 31, during which its net portfolio value was at 242 billion Singapore dollars ($180 billion), 9 percent lower than the 266 billion Singapore dollars ($194 billion) in the previous year.
Total shareholder return, which also measures the compounded annual returns to the Singapore government, declined 9.02 percent - reflecting share price declines of its listed investments, offset by the performance of unlisted assets.
The firm's net profit for the year ending March 31 was 8 billion Singapore dollars ($6 billion).
A total of 30 billion Singapore dollars ($22 billion) was invested during the year, with the United States accounted for the largest share of new investments during the year, followed by China.
The major sectors it invested in were financial services, telecommunications, media and technology, as well as life sciences and agriculture.
The Chinese market accounted for the largest share of Temasek's investments in Asia over the last financial year. The investments include Zhongce Rubber, a domestic tyre manufacturer, and in Cainiao, a data and technology-based logistics platform focused on e-commerce. In financial services, Temasek increased stake in Industrial and Commercial Bank of China (ICBC), and invested in Postal Savings Bank of China, a provider of financial services to rural, small-to-medium enterprises, and to retail banking segments.
Looking ahead, Temasek said the US economy recovery is largely on track albeit with modest growth. It also expects China to transit successfully to a more sustainable growth path in the medium term. On the other hand, Britain's vote to leave the European Union has softened the short term outlook in Europe.