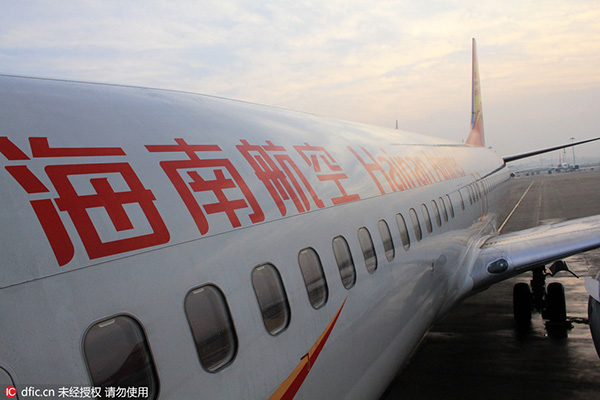 A jet plane of Hainan Airlines is pictured at the Haikou Meilan International Airport in Haikou city, South China's Hainan province, 19 March 2016.[Photo/IC]
Passengers heading from Beijing to Calgary in western Canada can now fly directly to the city, after Hainan Airlines launched a nonstop service on Thursday.
The airline is temporarily operating an Airbus A 330-200 on the route, offering flights on Tuesdays, Thursdays and Saturdays. The frequency will rise to four flights a week later this year. The planned Boeing 787-8 Dreamliner operation will begin in early August.
It is the first direct flight between a Chinese city and Calgary, Canada's oil capital. Hainan Airlines also operates a direct service to Toronto, the country's financial center.
Officials in Alberta, of which Calgary is the biggest city, said the flight will boost Chinese tourist arrivals in the province.
"This new nonstop service to China will give our region's business and tourism sectors access to an important world market and bring significant and far-reaching economic benefits to Alberta," said Stephan Poirier, chief commercial officer for the Calgary Airport Authority.
One of Canada's biggest attractions, the Banff National Park in the Canadian Rockies, is just 125 kilometers west of Calgary.
Tourism agencies in Alberta are holding "China Ready" workshops as they expect an influx of travelers from the country with the launch of the flight.
One estimate says the direct service will bring some 20,000 additional Chinese tourists to the province annually.
The service is also expected to create hundreds of jobs in Alberta, Poirier said when the flight was first announced in February.
A subsidiary of the privately owned HNA Group, Hainan Airlines is China's fourth-largest airline. It flies to more than 200 cities, including eight in North America, which are served by direct flights.
"We are delighted to announce our latest nonstop flight from Calgary to Beijing. Calgary is the second city in Canada that Hainan Airlines will serve, after launching the Toronto-Beijing route in 2010," said Hou Wei, vice-president of Hainan Airlines.
"This route will further enhance cross-cultural and economic exchanges between China and Canada and it will provide excellent service for our valued passengers."
Li Xiaojin, a professor at the Civil Aviation University of China in Tianjin, said: "As the traffic rights are tight for routes between major cities, launching direct flights to second-tier cities is reasonable."
"Direct flights between first-tier Chinese cities and second-tier foreign cities, as well as second-tier Chinese and first-tier foreign cities, are expected to grow rapidly in the future, given the significant demand for international travel in China."
Zhu Wenqian contributed to this story.